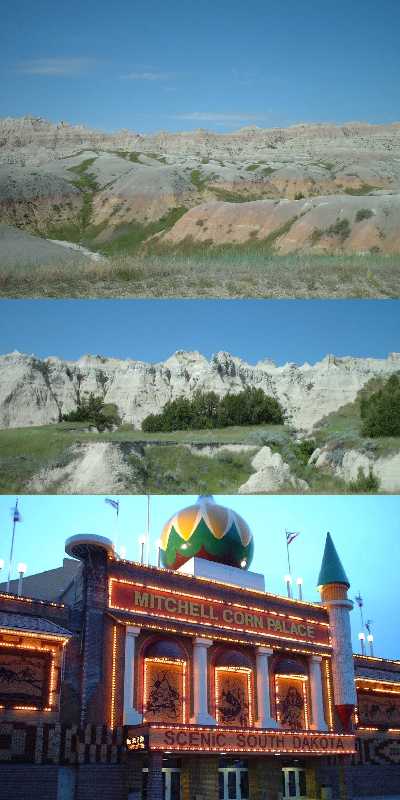 South Dakota

Mount Rushmore and Crazy Horse Monuments
[Posted 6 June 2004]
South Dakota is tucked away in the northern Midwest, one of those icy-cold states that most never visit outside of the summer months, often on the way to other states via I-90 or I-29.  It's most famous for Mount Rushmore and the Crazy Horse monument -- faces carved into stone.  Yet Mount Rushmore is probably the least attractive sight in the state.

Most of its tourist attractions are in the state's southwestern corner near Rapid City.  Mount Rushmore and the Crazy Horse Monument are located here as well.  One thing about both monuments is that they aren't cheap.  Both have an entry fee, and you might want to check on prices before going. 

Southwestern corner:  Badlands National Park, Black Hills, and Show Caves
Badlands National Park contains miles of beautiful rock formations caused by erosion.  I have a Badlands Photo Gallery, for those who'd like to view some photos of the Badlands today.  Not all of my photos were taken inside of park boundaries, as The Badlands cover a broader area with the Park only protecting the most exquisite formations.  An entire day could be spent viewing the park, or for those just wanting to drive through, a few hours will cover its main roads.  The park also contains some large prairie dog colonies, and it's easy to find a few here & there who'll come to the surface.

The Black Hills National Forest is another attractive area, a heavily forested region with a lot of exposed rock often colored or streaked with black.  The area has streams and waterfalls, all very attractive and rarely crowded, at least while I was there. 

The southwestern corner of the state also has a number of show caves, unique because most were formed under water, causing the walls to be coated with crystals instead of stalactites.  There are some stalactites, but the caves in general here have many more crystals than stalactites, and often a black magnesium layer is found behind the crystals.  Most of the caves aren't very strenuous to view -- only a few staircases and well-lit paths -- but there are a few things to know before selecting which caves to see.  The Sitting Bull crystal cavern is reputed to have some beautiful large crystals in it, but accessing the cave is done via long ladder-like metal staircases.  These must be descended facing the stairs like a ladder, as the rungs are too narrow to fit a foot on.  I visited South Dakota after an auto accident, and had to turn back when I saw the 2nd staircase.  My chiropractor had me fixed up well enough to handle most staircases and walking around for an hour at a time, and I was also taking the herbs valerian root and ginger to prevent muscle spasms from incapacitating me during such a hike, but Sitting Bull was way beyond me.  Another lady who'd been in an auto accident turned back with me.  Anyone with a physical disability, who can't climb huge ladders going both into and out of the cave, should rethink Sitting Bull.  It's currently almost 2 years since my October '02 accident, and I couldn't even consider Sitting Bull.  It'll probably take years of additional chiropractic work before I could do anything that challenging, although I could have easily attempted it before the accident.  Another thing about Sitting Bull is its access road going to the caverns -- it's narrow and very curvy, basically an accident waiting to happen.  Be sure to stay attentive, follow the signs exactly, and only attempt the road if your car is in good mechanical condition.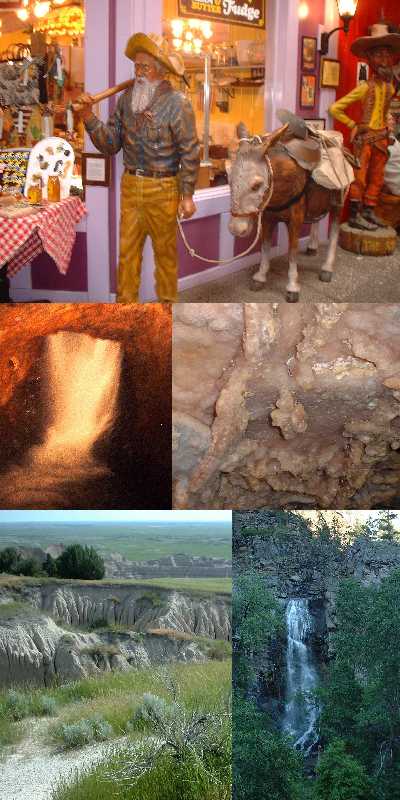 Aside from another local cavern that seemed to be closed, even during its reported business hours (locals said it was because a tourist had broken her leg there the year before), the caves run by the government had their own problems.  The Jewel Cave National Monument didn't allow any kind of bags taken into the cave -- no camera bags no matter how small, no purses, and no backpacks.  As I was travelling and didn't want my purse to be stolen from my car, I opted not to see the cave instead.  I was also nervous about carrying my camera around without its bag, as it would be too easy to drop with only a strap, especially if I slipped or encountered a difficult corridor.  At Wind Cave National Park, they were having some sort of event when I arrived, and there was no parking left near the cave -- you'd have to wait around for a shuttle, and it was extremely crowded.  Again, I opted not to see the cave instead.  Otherwise, at some point in the future I'll post photos in my cavern gallery on the South Dakota Caves -- as soon as I have time to prepare the galleries.  (I'm way behind on this web site, so it'll probably be months from now.)

Another site that isn't quite a cave is Thunderhead Falls, a waterfalls deep inside a mountain from the mountain's mining days.  Basically, you pay a few bucks, then walk down a long corridor to the indoor falls along the exiting stream.  The walls of this corridor are dark purple from the rocks' natural manganese in the area.

The state has numerous other attractions as well, such as the Cheyenne & other Indian Reservations, the Missouri River, the Wounded Knee site, the Mammoth Site, and so many others.  The state's scenery is surprisingly pretty, with very volatile weather that changes from clear blue to violent thunderstorms, sometimes daily. 

Corn Palace and Wall Drugs
There are some tourist attractions that are advertised heavily on the main freeway.  I visited a few of these, and wasn't very impressed.  For example, there was a reptile park and  a bear park that were OK but not the greatest, pretty much just small private zoos.  There were a couple of Native American museums which seemed too small for a state with such big Native history.  And then there were the Corn Palace and Wall Drugs.  I had to see the Corn Palace and Wall Drugs, just to see why anyone would buy so many billboards for the places. 

The Corn Palace is pretty much the civic center for Mitchell, South Dakota, a town once competing with Pierre to be the state capitol.  The Corn Palace was erected partly to sway opinion toward Mitchell, and partly to show that South Dakota could be a good farming area and not just a badlands.  They lost the state capitol bid, but kept the palace and expanded the area around it.  There are huge murals both inside and outside of the palace made entirely of natural-colored corn.  The murals outside are redone every year, and the palace becomes what they claim is the world's largest bird feeder.  The palace is cute and has a nice gift shop, but really isn't worth going very far out of the way.  If you're starting from the western end of the state and have no need to go to the eastern end, I wouldn't recommend the journey just to see the Corn Palace.  When I first drove to Mitchell, I arrived just after the palace had closed, and asked some young ladies walking in the area about it, and whether it was worth staying overnight to see.  They said it was used as the town's civic center, that their high school graduation was held there, and that it wasn't worth staying overnight.  But then huge, violent thunderstorms rolled in as I was leaving town, and I decided to take a hotel anyway.

Wall Drugs is a big drug store complex in the town of Wall, near the eastern end of the Badlands, heavily advertised on billboards across the state.  When I arrived, I was somewhat impressed and somewhat disappointed.  If I lived there locally, then it would be fun to go to Wall Drugs for coffee with the friends.  But as a tourist, it was something like a gimmicky shopping center, of which I'd already seen too many.  It did have a restaurant and coffee shop, but they were too crowded and the food wasn't anything special.  There were several shops and a rear patio that were all very nice, even a little chapel for travelers, but the place was so crowded, and there was so little to see that it could be done in an hour or so -- hardly worth going out of the way.  Like the Corn Palace, I'd say it is worth seeing if you're already in the area.

Worth seeing
There are many, many other tourist sites in South Dakota that I haven't seen as well.  The southwestern corner of the state could easily take an entire week or two of vacation for the major sites.  Overall, the state is one of the prettiest for natural landmarks, like its Badlands and Caves -- an often overlooked treasure of the north.


Back to the top

Back to the Pam's Travels page

Back to the main page

All content including photographs &copy 2003, 2004 by Pam Rotella.