Pam Rotella's Vegetarian FUN page -- News on health, nutrition, the environment, politics, and more!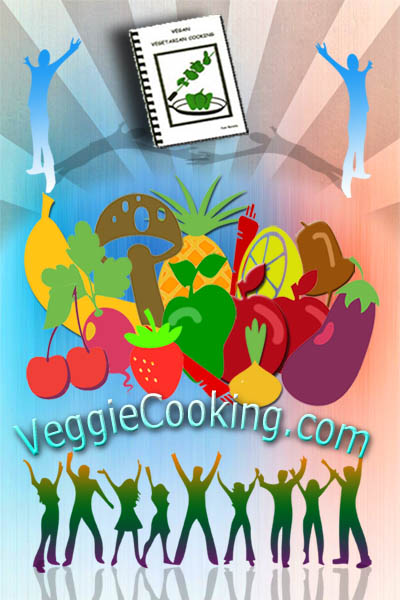 Fun link of the month:

Last month's fun link featured a Republican, and so this month features Democratic presidential candidate Jim Webb, with this attempt at humor by the Washington Post (it's about as funny as The Post gets, which is somewhat humorous).

Also, the panda cam at the National Zoo, with a new cub to watch!





News from the Week of 19th to 25th of July 2015
I'm starting this year's posts with a page on the possibility of living passenger pigeons, the same topic I ended on last year. Going forward, the format of this front page will change. More to come on the new format, but one thing is certain -- I no longer have time to select good news links each week as in previous years. I will focus on my own articles, as new ones are available, and other changes may come soon. - PR

Passenger Pigeon Sightings from the Birding Community (22 July 2015)
If you believe that you've seen a living passenger pigeon, then please submit that sighting to HoriconBirds.com via the form included on the Contact page. This page is organized with the most recent sightings first.

In light of my own passenger pigeon sightings, and others' sightings e-mailed to me after I posted my own on the world wide web, I've decided to maintain a page documenting possible passenger pigeon sightings from anyone willing to share them. This sightings page is meant to benefit the birding community, and I'll maintain it because the bird banding lab and other official bird reporting sites don't make room for the possibility of living passenger pigeons.

I haven't scrutinized the sightings here, as that would make birdwatchers critical of themselves and discourage them from sharing what may be valid sightings. Readers can decide for themselves whether any of these sightings indicate a surviving species or not. The range of these sightings is interesting -- Southeastern Pennsylvania, Southern Ohio, Wisconsin, Iowa, and Eastern Wyoming. [Read more...]



News from the Week of 7th to 13th of September 2014
I know I haven't updated the page for a while. What can I say, it's been a busy summer. I've actually enjoyed the time off, and today will post a link to one of my own articles, an important one. I'll work on the page again soon, starting with changing the "fun link." - PR

The holy grail of birding: Pam's passenger pigeon sighting (11 September 2014)
Without proof of the encounter, I didn't report the sighting or even take notes. Rather I intended to look at "mourning doves" and pigeons in Wisconsin more closely, hoping to find that passenger pigeon again, or ideally his flock.

Yet even without the photo, I'm convinced that the large bird was a living passenger pigeon, and recently decided to make that information public. I think it's important to reveal that a bird photographer saw a living passenger pigeon.

The bird's good flight skills also matched the description of passenger pigeons. He needed very little space to launch toward the road, do a tight turn to proceed in the direction away from traffic, and avoid the additional power lines above the lower lines that the pigeon and his companions had perched on.

While I didn't note the highway or general location of the sighting, I have an idea of where I was. I do remember the power line design, lower than modern lines and close to the road. That's why I was able to identify the bird without use of a long camera lens or binoculars. Only certain highways have those types of electrical lines, and then only in certain spots.

Although I won't publish the exact road where I believe the sighting occurred online, to help preserve both avian and human habitats there, I will say that one of three counties is almost certainly the location. In the order of likelihood: Fond du Lac County, Green Lake County, or Waushara County, Wisconsin. However, around the same time frame, I did pass through other counties where there's a lower chance the sighting occurred: Marquette, Dodge, Sauk, Adams, Waupaca, Winnebago, Outagamie, Brown, Juneau, Portage, Marathon, Columbia, La Crosse, Monroe, Wood, and Jackson Counties, Wisconsin (roughly in that order of likelihood). [Read more...]



News from the Week of 6th to 12th of April 2014
I'll start posting news links again sometime after tax day (the 2nd half of April). Until then, enjoy some nice endangered whooping crane pictures from Horicon Marsh -- just the thing to see before Earth Day! - PR

Grasshopper returns, following a hard year for DAR birds (8 April 2014)
Parked cars along Highway 49 usually indicate something good to see. With its high speed limit, heavy traffic, and devastating roadkill count, bird watchers need a good reason to tolerate the highway. As birders parked along its shoulders on Sunday, DAR whooping crane # 16-11, named "Grasshopper," was seen walking on an ice-covered section of the marsh that was home to trumpeter swans and their chicks in previous years.

The return of Grasshopper is encouraging. Last year, seven of the nine whooping cranes released at Horicon through the Direct Autumn Release (DAR) program were lost.

According to Bryant Tarr, Curator of Birds at the International Crane Foundation, one of the 2013 DAR cranes died from a traumatic event, perhaps a car strike. The other six may have been killed by predators, although the condition of the birds when found made it impossible to know their causes of death with certainty.

Overall, 67 whooping cranes were released by the DAR program since it started in 2005. Of those, 31 are alive today, and the other 36 are dead or long-term missing, Tarr said.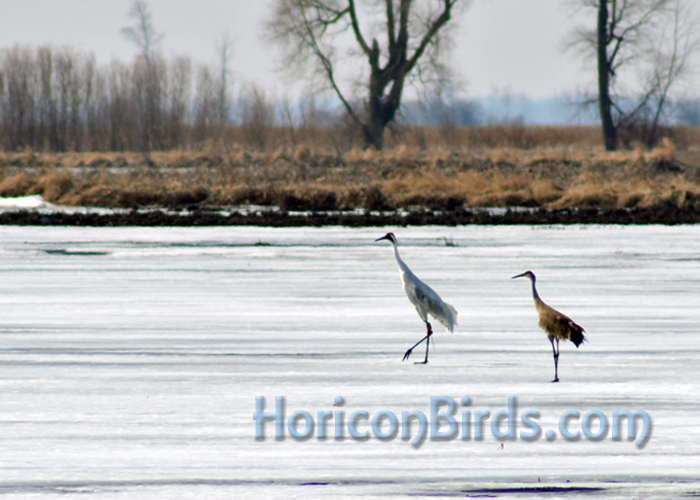 The size difference between whooping cranes and sandhill cranes is apparent as DAR Whooping crane 'Grasshopper' walks on ice with his sandhill crane companion at Horicon Marsh, 6 April 2014. Photo by Pam Rotella.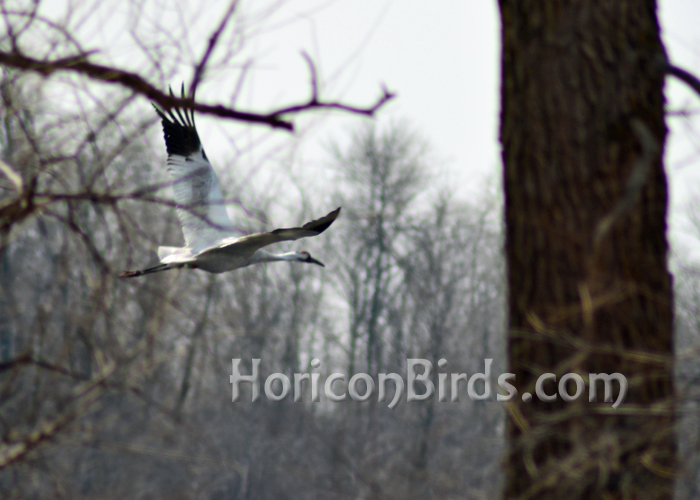 Grasshopper flies through the woods at Horicon Marsh, 6 April 2014. Photo by Pam Rotella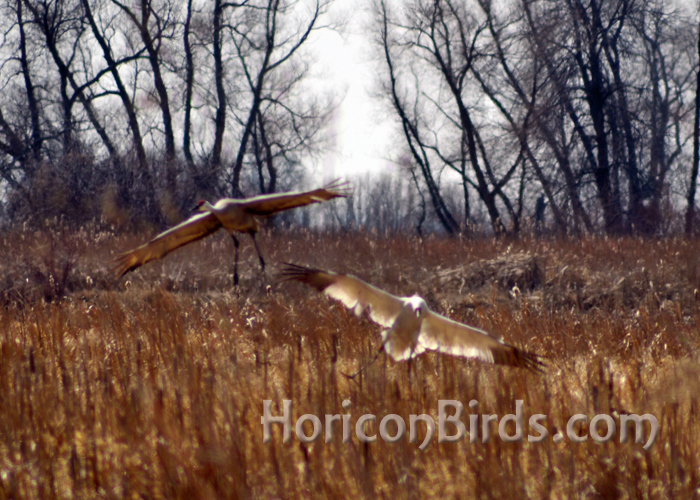 Grasshopper and his companion land in Horicon Marsh, 6 April 2014. Photo by Pam Rotella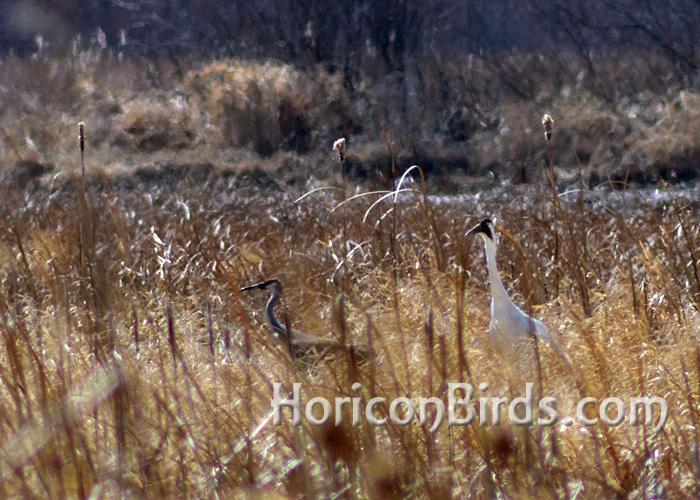 Grasshopper and his companion watch birders from tall reeds at Horicon Marsh, 6 April 2014. Photo by Pam Rotella


[Read more...]



News from the Week of 2nd to 8th of March 2014
I'm behind on posting news links again, due to a pure lack of time, even pre-tax season. News links don't get the high ratings of some of my health-related articles, yet they're the most time-consuming part of my web site because they're normally updated every day. And so I'm putting off the regular updates until I can get to them, probably in April, at the latest after tax day. Apologies to my regular home page readers. - PR

Senator optimistic military sex assault bill will pass (3 March 2014)
A senator who's led efforts in Congress to address military sexual crimes says she thinks she has the votes to pass legislation that would remove commanders from sexual assault investigations.

Sen. Kirsten Gillibrand thinks the vote will come this week and she believes the measure will get the 60 votes needed to overcome a filibuster.

The Pentagon estimates that 26,000 members of the military may have been sexually assaulted last year, though thousands were afraid to come forward.

Gillibrand says victims are afraid of retaliation or are concerned that nothing will be done after reporting incidents of sexual assault. [Read more...]



Nearly 1 in 5 had mental illness before enlisting in Army, study says (3 March 2014)
Nearly 1 in 5 U.S. soldiers had a common mental illness, such as depression, panic disorder or ADHD, before enlisting in the Army, according to a new study that raises questions about the military's assessment and screening of recruits.

More than 8% of soldiers had thought about killing themselves and 1.1% had a past suicide attempt, researchers found from confidential surveys and interviews with 5,428 soldiers at Army installations across the country.

The findings, published online Monday in two papers in JAMA Psychiatry, point to a weakness in the recruiting process, experts said. Applicants are asked about their psychiatric histories, and those with certain disorders or past suicide attempts are generally barred from service.

"The question becomes, 'How did these guys get in the Army?'" said Ronald Kessler, a Harvard University sociologist who led one of the studies. [Read more...]



Rep. Paul Ryan calls for cuts in anti-poverty programs (3 March 2014)
WASHINGTON -- Rep. Paul D. Ryan (R-Wis.), the former Republican vice presidential nominee, launched an attack Monday on the nation's poverty programs, provoking an election-year confrontation with the White House amid a growing focus on income inequality.

Drawing on his political roots as a student of conservative anti-poverty thinkers, the House Budget Committee chairman said many aspects of the expansion of the federal safety net since President Johnson's "War on Poverty" 50 years ago were "making it worse."

Welfare, child care, college Pell grants and other assistance programs are all under the budget guru's ax in a lengthy critique released in advance of President Obama's own budget rollout.

The plan returns Ryan to the national stage, where he hopes to position himself as the party's big thinker in advance of a possible 2016 presidential run. [Read more...]



Canada failing homeless youth, report charges (3 March 2014)
Canada falls short of meeting the needs of homeless youth by treating them as adults and expecting shelter care to solve the problem, according to a new report.

Many youth find themselves "languishing in a shelter for four or five years when they should be in school learning to be an adult with the supports they need . . . instead of rushing them to be adults, living in poverty and becoming chronically homeless adults," says report author Stephen Gaetz, a professor in York University's education faculty and director of the Homeless Hub (Canadian Homelessness Research Network).

"By continuing to emphasize emergency supports, as important as they are, rather than prevention or rapid rehousing, our strategy is simply to manage the problem," he said.

Gaetz is author of Coming of Age: Reimagining the Response to Youth Homelessness in Canada which was released Monday.

The report looks at remedies used in Canada and countries such as the United Kingdom and Australia which address youth homelessness differently. [Read more...]



Who Is Provoking the Unrest in Ukraine? A Debate on Role of Russia, United States in Regional Crisis (3 March 2014) [DemocracyNow.org]
Let's start with Professor Snyder. Can you explain what's happened until this point?

TIMOTHY SNYDER: Well, revolution and then counterrevolution. Ukraine was governed by probably the most financially corrupt regime in the history of the world, which by the end of its rule was not only physically oppressing, but finally killing its citizens as they attempted to exert pressure by way of exercising their rights to speech and assembly. This president left after an agreement, according to which presidential elections were going to be called, leading to a change of power where power shifted in Ukraine from the streets to the Parliament, where it resides now. The constitution in Ukraine has been changed such that Ukraine has now become, instead of a super-presidential authoritarian regime, a parliamentary democracy, and elections have been called for this coming May.

What happened immediately after that was an entirely unprovoked Russian military intervention on part of Ukrainian territory. The goal of this seems to be twofold--first of all, defensive, from Putin's point of view, to prevent this sort of thing from happening again in Russia. If you can create the image of chaos in Ukraine--and, of course, invasions have a way of creating such images--then you came make Russians believe that what's happened in Ukraine is entirely unattractive. The second goal, the long-term goal and the more offensive goal, is to propound an alternative idea of what European civilization means. Putin and his advisers and the Russian press have made very clear that they understand Ukrainian events not just as an expression of Ukrainian interests or ideas or aspirations, but as part of a decadent European civilization. And by decadence, they mean rejection of Christianity, advocacy of the rights of ethnic and sexual minorities. They're making it very clear that this is what they oppose, and they seem to be trying to draw a line in Ukraine. Of course, these issues are not central to Ukrainians themselves. What Ukrainians were campaigning for was something like the rule of law. And what they're concerned about now is also very simple: namely, the territorial integrity of their own state as it's being invaded by an outside force. [Read more...]



Feds slash sulfur limit in gasoline (3 March 2014)
HOUSTON -- The Obama administration imposed new limits on the amount of sulfur in gasoline on Monday, overruling the objections of refiners and oil companies who said the new ceiling would be too low and drop too fast.

Under the Environmental Protection Agency's so-called Tier 3 rule, refiners will have until 2017 to comply with the strict new 10-parts-per-million cap. The new limit is one-third the current sulfur threshold and 97 percent less than an earlier limit phased out in 2004.

The EPA rule, which appeared little changed from a draft proposal released last year, also establishes new mandates for automotive tailpipe emissions that track California limits coming online in 2017, a move that makes it easier for U.S. automakers to sell the same car in all 50 states. Those tailpipe standards would be phased in between model years 2017 and 2025.

"These standards are a win for public health, a win for our environment, and a win for our pocketbooks," EPA Administrator Gina McCarthy said. "By working with the auto industry, health groups, and other stakeholders, we're continuing to build on the Obama administration's broader clean fuels and vehicles efforts that cut carbon pollution, clean the air we breathe and save families money at the pump." [Read more...]



Optimal cholesterol ratios not only good for the heart, but also lower Alzheimer's disease risk (3 March 2014)
(NaturalNews) Volumes of current research now clearly demonstrate that Alzheimer's disease, though influenced to a small degree by genetic predisposition, is largely caused by a confluence of lifestyle indiscretions over the course of one's early and mid-life years. Prior studies have shown that a diet consisting of hydrogenated fats, processed carbohydrates and sugary treats rapidly accelerate the onset and progression of the disease, especially in those with familial genetic traits. Lack of physical activity, smoking, exposure to environmental and household pollutants as well as nutritional deficiencies all play a role in promoting an early Alzheimer's diagnosis.

Researchers from the University of California Davis have found another significant factor linking cholesterol ratios and Alzheimer's disease. Publishing in the Journal of the American Medical Association Neurology, scientists explain how both high levels of HDL cholesterol and low levels of LDL cholesterol are associated with lower accumulations of the amyloid plaque deposition in the brain that is a hallmark of Alzheimer's disease. The team found that similar cholesterol ratios that lead to coronary artery disease also promote the development of Alzheimer's amyloid plaques found in virtually all diagnosed cases of the memory-robbing illness.

Imbalanced HDL/LDL cholesterol levels significantly increase amyloid brain plaque deposits
Following up on long-term evidence showing a correlation between raised levels of cholesterol and Alzheimer's disease incidence, researchers developed a cohort of 74 men and women, aged 70 years or more that included three people with mild dementia, 38 with mild cognitive impairment, and 33 who were cognitively normal. All the participants had fasting blood tests and underwent brain PET scans where amyloid plaques were highlighted using a radioactive tracer that binds to them.

After analyzing participant blood tests and scans, researchers found a direct relationship between reduced levels of HDL cholesterol, increased levels of LDL cholesterol and development of amyloid brain plaque formation. Lead study author, Dr. Bruce Reed noted "Unhealthy patterns of cholesterol could be directly causing the higher levels of amyloid known to contribute to Alzheimer's, in the same way that such patterns promote heart disease." The scientists found that people can improve their chances of keeping their brains healthy later in life by not only controlling their blood pressure, but also by controlling their cholesterol ratios. [Read more...]



Roundup herbicide linked to celiac disease and gluten intolerance, new study suggests (3 March 2014)
(NaturalNews) A new study has found that the world's best-selling herbicide is linked to the global rise of celiac disease, gluten intolerance and irritable bowel syndrome.

According to the U.S. peer-reviewed study, the details of which were published by Dr. Anthony Samsel and Dr. Stephanie Seneff, the rise in disease has coincided with the increased use of glyphosate (Roundup) herbicide.

The paper has been published in the Journal of Interdisciplinary Toxicology.

The researchers say that, based on their findings, one in 20 people in North America and Western Europe how suffer from celiac disease, which is essentially gluten intolerance. [Read more...]



Endocrine-disrupting chemicals in rivers affect fish heart development (3 March 2014)
(NaturalNews) Mass-produced man-made chemicals that mimic estrogen should be a major concern for humanity, as they can go undetected in water and affect the reproduction and gender identity of various life forms. Lurking in the water, these chemicals can be taken in invisibly by all sorts of life and disrupt the endocrine system. Environmental studies in Virginia and Pennsylvania waterways show that these synthetic estrogens do more than just affect the endocrine system. These estrogen chemicals can also affect fish heart development.

"Any relevance to fish or humans is potential, not actual, because the untested hypothesis is exactly that: untested," said lead author Dan Gorelick.

16 of 19 water sources activated the estrogen receptors of zebrafish
The study is the first of its kind to show how these chemicals in the water attach to proteins that control how heart valves grow in fish.

U.S. Geological Survey research biologist Luke Iwanowicz says, "This tells us that endocrine-disrupting chemicals could lead to improper heart development. We were quite surprised since this is something that others hadn't observed before." [Read more...]



Virus from Siberian permafrost revived (3 March 2014)
French scientists have revived a giant virus that had been locked in the Siberian permafrost for more than 30,000 years, a breakthrough that may serve as a warning that long-dormant, possibly harmful pathogens in frozen soil could be revived by Arctic drilling and global warming.

The scientists thawed the virus, Pithovirus sibericum, and watched it replicate in a culture in a petri dish, where it infected an amoeba, a simple single-cell organism, according to a study published Monday in the U.S. journal Proceedings of the National Academy of Sciences.

The study's lead author told The Los Angeles Times that the discovery proves "that we could eventually resurrect active infectious viruses from different periods."

"We know that those nondangerous viruses are alive there, which probably is telling us that the dangerous kind that may infect humans and animals -- that we think were eradicated from the surface of earth -- are actually still present and eventually viable, in the ground," said microbiologist Jean-Michel Claverie of Aix-Marseille University in France. [Read more...]



E-mails show Wisconsin Gov. Walker as hands-on tactician fixated on public image (3 March 2014)
Scott Walker was embroiled in a heated campaign for governor of Wisconsin when he and his staff leapt into crisis mode.

A 13-ton concrete slab had come loose and fallen from a county-owned parking garage in Milwaukee, crushing and killing a 15-year-old boy, and within minutes, aides feared the worst for their boss, then Milwaukee County's top elected official.

"He'll be eaten alive," wrote his chief of staff, worried that Walker might be at a political fundraiser. His campaign manager weighed in, too, saying, "He needs to lead. . . . His response will be the focal point."

As his aides fretted, Walker was already in place, his cellphone battery drained, touring the scene with the county sheriff and briefing reporters. [Read more...]



XL Dissent: 398 Youth Arrested at Anti-Keystone XL Pipeline Protest at White House (3 March 2014) [DemocracyNow.org]
Deirdre, welcome to Democracy Now! Why did you get arrested yesterday?

DEIRDRE SHELLY: I got arrested because I live in Washington, D.C., I had the financial means to pay for the citation, and I felt a responsibility to be there with my peers in support of communities who live along the pipeline who maybe couldn't come to D.C., couldn't afford to get here, had to work. They're the ones who are going to be impacted the most. And I really felt responsible, and, like, I had to be there.

AMY GOODMAN: And to those who say this is a matter of jobs, building the pipeline, making its way, you know, across the country, your response?

DEIRDRE SHELLY: I mean, even Obama has admitted that the jobs that are purported are temporary and are very few. And there's no reason that those jobs have to be in dirty and expensive oil. This isn't an issue. You know, America is ready for a clean, green economy, and we need to start somewhere. And the place to start is saying no to this dirty pipeline. [Read more...]



Hundreds arrested at anti-Keystone protest in front of White House (3 March 2014)
Nearly 400 anti-Keystone protestors were arrested on Sunday after zip-tying themselves to a fence in front of the White House. Activist group 350.org characterized the action as the "largest youth civil disobedience at the White House in a generation."

Those arrested were part of a larger student-led protest coordinated by XL Dissent. Organizers estimated that 1,200 people total participated in the march and rally that called on President Obama and Secretary of State John Kerry to reject plans to build the Keystone XL pipeline.

Here are some photos and tweets from the scene... [Read more...]



No celebrity in tow, Va. Cherokee tribe is told to wait (3 March 2014)
Maybe they needed a celebrity - say, someone like Wayne Newton - to make their pitch.

But they didn't have one, and a delegation from Virginia's Appalachian Cherokee Nation was sent away empty-handed Monday in their quest for state recognition of their tribe.

Descendants of refugees from the famous "Trail of Tears" relocation in the 19th century, the Appalachian Cherokees have been seeking state recognition for three years.

The state's imprimatur would help the tribe get grants to build a community health clinic and a home for homeless children in southwest Virginia, Gregory (Soaring Osprey) French of Virginia Beach, the group's spokesman, told the House Rules Committee. [Read more...]



Venezuela opposition musters thousands for march despite Carnival holiday (3 March 2014)
(Reuters) - While many Venezuelans went to the beach to enjoy the Carnival holiday, thousands of anti-government demonstrators marched in the capital on Sunday, trying to keep up the momentum from weeks of protests demanding President Nicolas Maduro resign.

There are no signs that Maduro, who says the protests are part of a U.S.-backed coup plot, could be ousted in a Ukraine-style overthrow despite widespread discontent with soaring inflation and chronic product shortages.

Government leaders have urged Venezuelans to skip the protests and make their traditional trips to the beach during the Carnival holiday. State television was filled with images of packed beaches and smiling holidaymakers.

Opposition marchers that ranged from students to middle-aged professionals and senior citizens filled a square in the east of Caracas to protest problems including 56 percent annual inflation and one of the world's highest murder rates. [Read more...]



Round up the usual suspicious studies (but don't link to them) (3 March 2014)
Earlier today, we posted a brief item in Grist List about a new study reporting that the herbicide glyphosate has come to permeate air and rainfall in the Mississippi Delta.

That study is alarming in itself, assuming you don't relish having a weed-killer atmosphere. Glyphosate, a.k.a. Roundup, has become a massively used chemical in Big Ag farming, in good part because it's the cornerstone of Monsanto's GMO business. The company's "Roundup ready" crops are designed to take a glyphosate dousing and keep on growing. That works fine for a while -- until glyphosate-resistant weeds start sprouting, at least; but it can also lock farmers into a cycle of dependence, which is why the whole program has been dubbed "agricultural heroin" by some.

Unfortunately, in seeking to explain why we might not welcome our new glyphosate overlords, we went looking for information about glyphosate's toxicity and health risks, and we fell for a bit of junk science that we should have steered clear of. We linked to a paper -- "Glyphosate's Suppression of Cytochrome P450 Enzymes and Amino Acid Biosynthesis by the Gut Microbiome: Pathways to Modern Diseases" -- that has been widely debunked, for instance here. (As that post points out, any paper that uses a phrase like "exogenous semiotic entropy" ought to set off alarm bells.) We should have known better -- particularly since we've recently run some in-depth coverage of glyphosate as part of our Panic-Free GMO series. [Read more...]



When insurers don't pay for surgery (2 March 2014)
Peter Altschuler's back surgery had been a long time coming. The 66-year-old marketing professional and actor from Santa Monica slipped a disc about 10 years ago, and he's been coping with it ever since.

A series of injections kept him pain-free for years, he said, but by 2012 they stopped doing their job. "I was in constant discomfort," he says. His doctors said it was time for surgery.

Although old enough to qualify for Medicare, Altschuler held on to an insurance policy he'd had through a professional association before turning 65.

As most health plans do, his insurer required him to obtain prior approval for his procedure. So he worked with his doctors to submit the required paperwork. It included the medical justification for his surgery, and he eventually got the green light.

But six weeks after his procedure, he got another notice, this time saying his plan wouldn't cover the cost of the surgery after all. Now, instead of a $2,500 bill, he is being charged $100,000. [Read more...]



Rate of babies delivered early at U.S. hospitals drops sharply (2 March 2014)
U.S. hospitals are making major strides at clamping down on early deliveries of babies and instead letting Mother Nature take its course in response to growing pressure from employers, government officials and patient-safety advocates.

The Leapfrog Group, an employer-backed organization that tracks hospital safety and quality, published data Monday showing a sharp decrease in early-elective deliveries since 2010 nationwide and in California.

The rate of deliveries before 39 weeks without a medical reason fell to 4.6% last year compared with 17% in 2010 among nearly 1,000 U.S. hospitals that reported results. California hospitals showed similar progress, going from 14.7% in 2010 to 3% last year.

"This is a remarkable reduction," said Edward McCabe, chief medical officer at the March of Dimes, which has pushed hospitals to address the issue. "It involves changing the culture of the hospital and that is always very hard to do." [Read more...]



East Texas man dies from flesh-eating bacteria (2 March 2014)
Authorities have confirmed that an East Texas man has died of necrotizing fasciitis, commonly referred to as "flesh-eating bacteria."

According to the Harris County Institute of Forensic Sciences, Travis Moore died Feb. 21 at an area hospital intensive care unit.

KHOU-TV reported that Moore, 74, had gone fishing the previous Sunday, Feb. 16, on Lake Conroe with his brothers. During that trip, he got a small cut on the top of his right hand but didn't have major symptoms until two days later, when his family thought he was having a heart attack, KHOU reported.

Moore, who lived in Chester, about 100 miles northeast of Houston, went to a Huntsville hospital and was then transferred to a Houston facility, family members told KHOU. [Read more...]

PAM COMMENTARY: Again, has anyone tried a Clark zapper on that, or anything else from alternative medicine?



Naval report cites missteps in fatal SEAL accident (2 March 2014)
Three Humvees loaded with Navy SEALs from Virginia Beach motored along a remote gravel road on a spring night in Kentucky almost a year ago. They were driving under stealthy "blacked out" conditions: Headlights off, night vision goggles on.

The first two vehicles in the SEAL Team 2 training convoy made a hard left turn, kicking up a cloud of dust that virtually blinded the third driver. He turned wide. The two right tires went off the gravel and onto the grass. With his foot still pressing the gas, he struggled to steer back onto the road.

The driver had never trained for these conditions. And although another vehicle had rolled over in this same spot a few years earlier, the SEAL behind the wheel didn't know that the soft, grass shoulder was about to slope hard away from the road.

He couldn't see the drop, but everyone in the Humvee soon felt it. [Read more...]



Gigabytes gone wild (2 March 2014)
First, when we talk about decisions based upon personal data, we need to realize that privacy rules are necessary. Some people might argue that privacy is dead in an age of information, but nothing could be further from the truth. Privacy isn't just about keeping things hidden, it's about the rules we use to govern information. Look at the "privacy policies" of even big data companies -- these tell you not just what information gets collected about you, but how it is used and when it can be destroyed.

Second, we need to realize that even shared personal information can be protected. When you go to see doctors or lawyers, you don't expect that the information you give them is theirs to use any way they want. The information is confidential: We confide in them so they can help us, and it's the promise of confidentiality that lets us trust them enough to tell them everything they need to know, even if it's embarrassing or sensitive. This essential trust is backed up by laws as well as professional rules of ethics. We don't think of this information as "public" or "nonprivate," and we can think about much of the data gathered about us the same way, whether it's the websites we visit, the books we read or the places we go that our digital devices track automatically. Amazon, Apple or our ISP or mobile phone carrier might need to know this information to help us go about our days, but that doesn't mean this data is "public" or that it should be beyond our control.

Third, big data requires transparency. If important decisions are being made about us based on an algorithm and data, we have a right to know how the algorithm works and what data is being used. It's outrageous that while big data has allegedly eliminated privacy, many of the ways it's used are themselves shrouded in secrecy. This has things entirely the wrong way around. If we're to build a society through decisions based upon data, we should know how they work, especially when those decisions will affect our daily lives, privacy and social opportunities.

Finally, we should recognize that big data can compromise identity, our right to decide who we are. If we're constantly sorted and nudged by big-data-based decisions in areas from our choice of books to our voting habits, we risk letting the powerful entities in our lives determine who we are before we even know ourselves. We need to think imaginatively about the kinds of data inferences and data decisions we will allow. We must regulate or prohibit ones we find corrosive, threatening or offensive, just as we've long protected decisions surrounding voting and contraception and prohibited invidious decisions made upon criteria such as race, sex or gender. [Read more...]



House GOP budget focuses on attacking anti-poverty programs (2 March 2014)
As a direct counter to President Obama's recent emphasis on the gap between rich and poor, the upcoming House Republican budget will focus on welfare reform and recommend a sweeping overhaul of social programs, including Head Start and Medicaid.

The push, led by Rep. Paul Ryan, returns the GOP's attention to a policy front that animated the party in the 1990s and signals Republicans' desire to expand their pitch to voters ahead of this year's midterm elections. This new effort comes after the party spent months fixated on combating the federal health-care law and engaged in intraparty squabbles over fiscal strategy.

On Monday, Ryan (R-Wis.), the House Budget Committee chairman, published an often stinging 204-page critique of the federal government's anti-poverty policies, questioning the efficacy of dozens of initiatives and underscoring where Republicans say consolidation or spending reductions are needed.

"There are nearly 100 programs at the federal level that are meant to help, but they have actually created a poverty trap," Ryan said in an interview. "There is no coordination with these programs, and new ones are frequently being added without much consideration to how they affect other programs. We've got to fix the situation, and this report is a first step toward significant reform." [Read more...]



Carnival around the world [PHOTO GALLERY] (2 March 2014)
Here's how other countries celebrate the pre-Lent party season... [Read more...]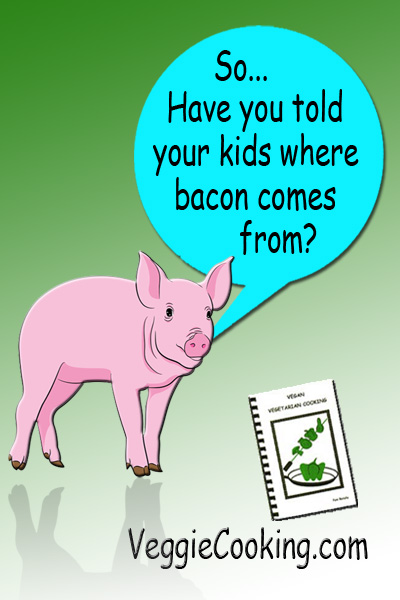 Need earlier news?

Visit Pam's NEWS LINK ARCHIVES


---------------------------

Banner and artwork photo information