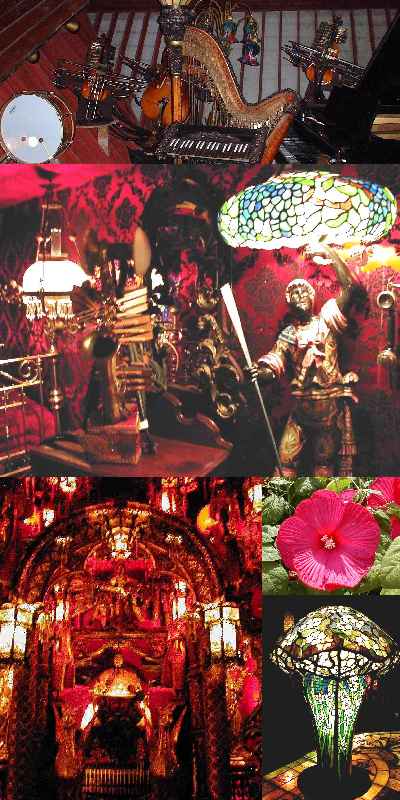 Wisconsin

The House on the Rock
[Updated 1 October 2002] The House on the Rock is my favorite tourist trap in Wisconsin. It won't make Wisconsin famous, but it's really a cool place. After arriving via its long, forested, sculpture-dotted drive, and purchasing tickets in the modest lobby, you begin to hear what makes it special. Ravel's "Bolero" is playing, and as you round the corner, it becomes apparent exactly who's playing it -- machinery. The house is full of mechanized musical ensembles, playing everything from the Benny Hill Theme to Nutcracker Suite.

Alex Jordan, an artist who envisioned a house atop a rock column in rural Wisconsin, originally created the house. Throughout his lifetime and after his death, the house's musical automation and huge collections have grown immensely. Various antiques, cars, carriages, boat models, glassware, dolls, doll houses, sea shells, guns, ornaments, Burma shave signs, stained glass, carousel animals, machinery, carved ivory, lamps, and other collectibles are scattered about in various displays. The house also claims to have the world's largest carousel, although no one is allowed to ride it. One year, I found the carousel closed for repair during their holiday tour. The tour is self-guided, costing about $20 per adult during the summer season. (The winter tour is less expensive, but the tour is shorter -- not all of the collections are open.)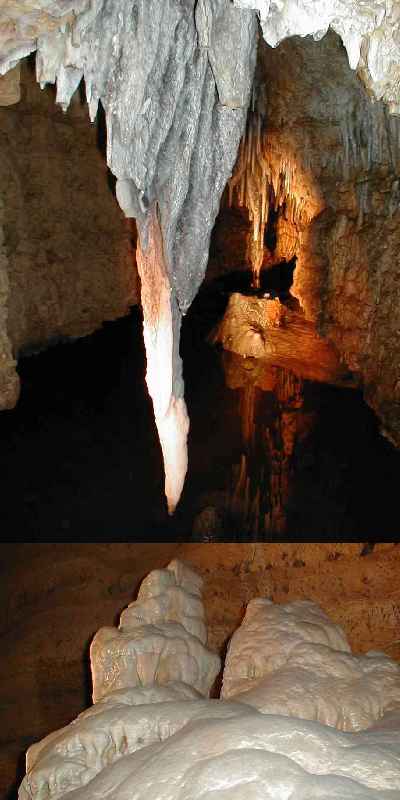 The Kickapoo Indian Caverns
I've only visited Kickapoo Indian Caverns once so far, and without a camera. But I promise to get pictures the next time I visit, and post a few here! Kickapoo Indian Caverns is a show cave in southwestern Wisconsin, near the Mississippi River. Unlike Cave of the Mounds, Native Americans did use the cave several hundred years ago. It's also larger and prettier than Cave of the Mounds, but not as commercially driven, so check its web site, http://www.kickapooindiancaverns.com/, for hours and other information before you go. The roads are slightly hilly in the area, so weather should be a consideration in your plans. It also has a small gift shop featuring Native American artwork.

Cave of the Mounds and Little Norway
Cave of the Mounds is a small cave which was sealed from outside life until it was opened and discovered during blasts for lead exploration. When the cave was first opened as a show cave, visitors often broke off stalactites for souvenirs, not realizing that 100 years grows only about an inch of stalactite on average. In many places throughout the cave, huge patches of stalactite "stubs" are visible. Cave of the Mounds is located about 30 minutes west of Madison, near Highway 18. Watch for signs to the cave along Highway 18 as you approach the Blue Mounds/Mount Horeb area.

Just down the road from Cave of the Mounds is Little Norway, a museum and former farm homestead settled by Norwegian immigrants. I didn't bring a camera with me on my one visit to Little Norway, but I'll try to take a few photos the next time I'm there.

Great Lakes and other attractions
There are many other attractions in Wisconsin, although I don't have recent photos of them. The state borders two Great Lakes -- Superior to the north and Michigan to the east -- with the Mississippi River as its western border. The area near the Mississippi is particularly beautiful, with bald eagles and other water fowl visible occasionally. Door County is the peninsula separating Green Bay and Lake Michigan -- an attractive area frequented by summer tourists. Madison is the state capitol complete with government buildings and the main University of Wisconsin campus, a huge university with all of the interesting people who go with it. Madison as a city was built on several lakes in the same area, and although its mosquito problem is famous, loons nesting in the area can give the area an enchanted feel with their exotic calls. Canada Geese can be found everywhere in the state for most of the year, now that global warming has made the winters more hospitable to them. Some local residents complain bitterly of goose droppings in their parks, but I'd rather have the geese and look where I'm stepping. With all the dogs around, you need to watch where you step anyway. Rural areas in Wisconsin, previously the nation's leading dairy-producing state, provide plenty of farm scenery, both operational and abandoned. Many of Wisconsin's farmers went bankrupt and left the state in the 1980's during the Reagan-Bush recession/depression.

Milwaukee is the state's largest city, with a few cultural sites and events, such as the War Memorial Art Museum and Summer Fest. One word of caution about Summer Fest and Wisconsin State Fair -- unless you like wandering around in huge crowds spending lots of money for mediocre food, make other plans and try to avoid traffic for these events. Summer Fest's music acts can be an attraction, but arrive early enough to find parking and use the rest room if needed (the lines are incredibly long), then find a seat -- this could take 1-2 hours in advance of the act you want.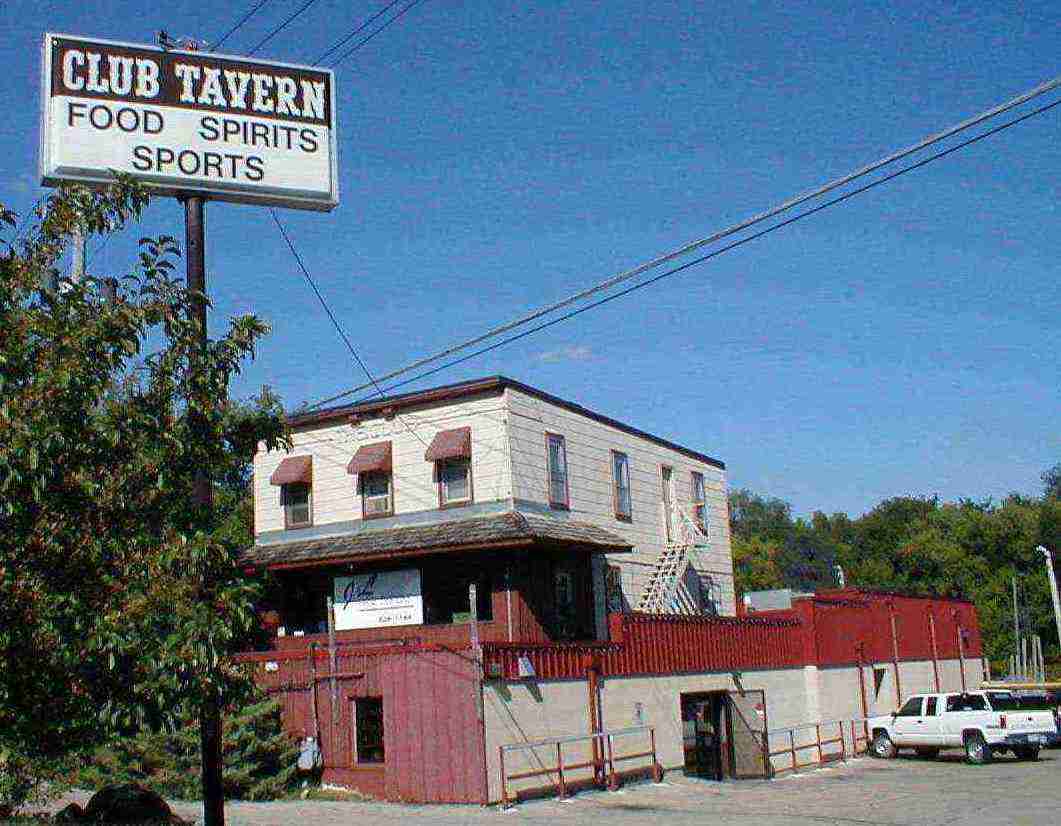 The Club Tavern
The Club Tavern was the bar studied in E.E. LeMasters' book, Blue-Collar Aristocrats; Life-Styles at a Working-Class Tavern (Madison: The University of Wisconsin Press, 1975). LeMasters was a Professor of Sociology at University of Wisconsin-Madison at the time. His book is well known among sociologists and anthropologists as a participant-observation study. (My degree from UW-Milwaukee is in sociology and history.) One of LeMasters' conclusions, for example, was that the bar was an important source of male companionship for its patrons.

As every sociologist knows, it is unethical to reveal the subjects of your study. If LeMasters had included information on which bar he was studying or real names of his subjects, he could have been kicked out of the ASA, harshly criticized by his colleagues, perhaps even fired by UW. And so the tavern was renamed "The Oasis" in his book. But everyone knows the bar was near Madison, because LeMasters taught at Madison while writing it, and because of clues in the book.

As a young sociology student, I read the book and decided to try finding the actual bar as a "quest" or recreational activity. I enlisted the help of my blues musician friends who had played Madison's clubs in previous years, hoping someone would recognize the bar from its description. I wasn't helpless without them, though -- the book had good clues. The bar's physical appearance is on page 12: "It occupies the exposed basement of an old two-story building which dates back to the 1880s or 1890s. It is partially hidden by a swanky cocktail lounge next door called The Tuxedo [another false name]. On the other side of the tavern there is a cemetery."

If my friends couldn't help, the last resort was circling every cemetery around Madison, looking for a bar that fit the description. Blue Collar Aristocrats contained a detailed description of the bar's interior, although I suspected it may have changed in the twelve years between its publication and my search. (In fact, when we first found the bar in the summer of 1987, its interior was almost the same as the book described, but has since been remodeled with a room added in back. In the late 90's, the horseshoe-shaped bar was torn out, and a new bar was located in the added back room, with new restaurant booths located in the old bar area.) The tavern also had its own parking lot with space for 20 cars. On page 13, LeMasters revealed the tavern was located near two main streets [University and Branch] in a suburb he called "Lakeside" [Middleton], near the larger city "Metropolis" [Madison]. The larger city was only 15 minutes/10 miles from the suburb where "The Oasis" [The Club Tavern] was located. On page 15, he mentioned the larger city, "Metropolis", was also the state capital (obviously Madison, Wisconsin).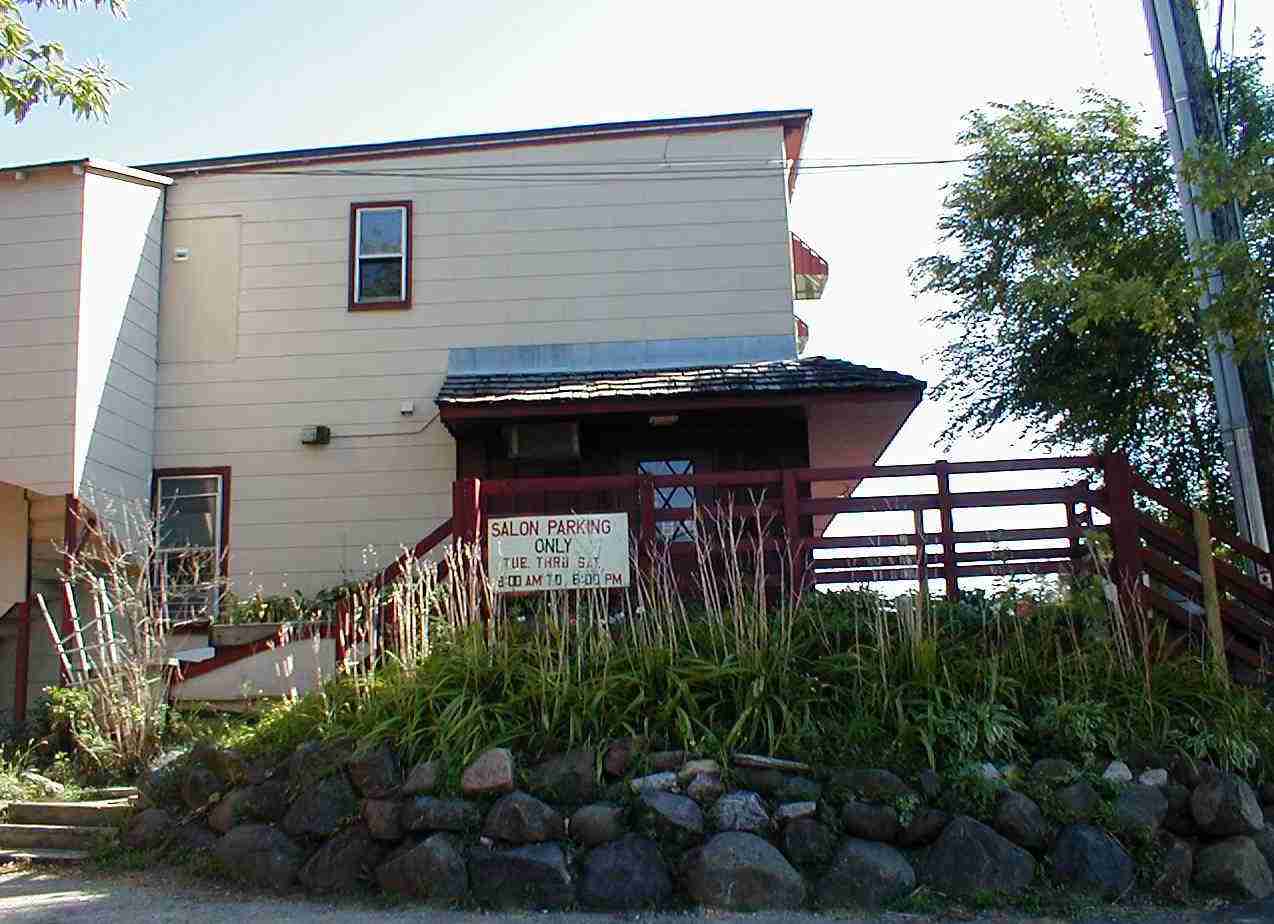 In 1987, I happened to move onto the same street as one of my musician friends, "Harmonica Bob". Bob was more of a blues groupie than a serious musician. He was learning to play the harmonica and sing, and enjoyed doing a couple of songs at open jam sessions, particularly around the corner at the Up & Under pub. Bob and I were only acquaintances from the Up & Under, but became good buddies when I moved a few houses away from him. He was what I'd call a "yuppie biker" -- he identified with being a biker, but his bike was a BMW, his car was a Volvo, he was a chemical engineer, and he was an avid student of Tai Chi in his spare time. He was surprised to learn I'd never ridden on a motorcycle before, and convinced me to take a short ride with him to Lake Drive (near UW-Milwaukee) and back. When I felt better about riding on a cycle, he loaned me his spare helmet and took me on a tour of the town in Wisconsin where he was born.

Around the same time, I started my quest for "The Oasis". I called my favorite harmonica player, Chris Beggan, because he'd been on the Madison scene for years -- I think his band was "Short Stuff" or something. (He wasn't exactly tall.) He told me about a supper club that fit the description, then offered some cautious advice: "Pam, I hate to tell you this, but the bar you're looking for might be a parking lot by now." I appreciated Chris' concern over time & money spent on the unknown, but I was aware of that possibility when I started. The search was more of an adventure -- I wouldn't be heartbroken if the bar was never found, at least seriously heartbroken. After obtaining no additional leads from other former Madison performers, Bob insisted on making the supper club into another bike trip. But when we arrived, it wasn't even close. There was NO CEMETERY in sight! And a cemetery doesn't exactly pick up and move away... The ride home was rough -- we arrived in Madison at dusk, and I had trouble staying awake on the back of Bob's bike. As we drove through the night, I noticed the temperature changes from one area to the next -- the air was cold, then suddenly we'd hit a pocket of warmer air, then cold, then colder, then warmer... I thanked Bob for his help, and told him of a more scientific method I had in mind --using a map of Madison and its suburbs to circle the cemeteries, looking for taverns that fit the description. To my delight, he wanted to help me try again. This time, we planned a weekend day for the quest, and I loaned him LeMasters' book.

When the big day arrived, I asked Bob if he'd read the book yet. He said he'd read the important parts -- the chapters on sex and marriage. On Madison's outskirts, we stopped at a plaza bar to plan our trip over a beer. I went to the ladies' room to fix my hair -- motorcycle riding was always unkind to my long hair. When I returned, the bartender was drawing Bob a map!! Later, Bob explained he'd put the map and book down on the bar to take off his jacket, then the bartender walked up, put his finger on the book, and said "I know that guy."

"You know LeMasters?" Bob asked. The bartender introduced himself as "Tonto", said he'd been tending bar in Dane County for over thirty years, and had been a drinking buddy of Dr. LeMasters. I asked Tonto if LeMasters was still at UW-Madison. He confirmed my suspicion that LeMasters had died. He said LeMasters was originally drawn to The Club Tavern because of its complete changeover of clientele -- blue collar aristocrats by day, college students by night. I don't recall LeMasters directly mentioning this in the book, but sometimes our friends remember things about us that we forget. He also said the cemetery would be hard to find without someone like him giving directions. "It's a small, private, veterans' cemetery -- just about as big as someone's backyard. You'd never find it," he said. Sure enough, it was barely discernible as a cemetery on the map we had -- we probably would have missed it, or at least been too tired to try after checking the larger cemeteries.

After numerous thank-yous to Tonto, Bob and I were on our way. Reaching the bar is simple -- follow University Drive west from Madison (for a while it changes to Campus Drive -- always stay on the main drag) to the city of Middleton. A street named Branch will have a stop light -- turn right, and the Club Tavern is to the right. It is located in the exposed basement of a building (a hair salon, I believe), just as the book described. Here's a breakdown of LeMasters' pseudonyms:
"Metropolis" was the city of Madison (the capitol of Wisconsin)
"Lakeside" was the city of Middleton, a suburb of Madison (I think "Lakeside" was chosen as the pseudonym because the Madison area is built on a few small lakes -- Mendota, Monona, Wingra, and Waubesa)
"The Oasis" was The Club Tavern
"The Tuxedo" was the night club Top Hat, still in business when Bob and I visited in '87, but now a medical office building.

Bob said he enjoyed watching my face as I walked through the door and recognized the horseshoe-shaped bar and other items from the book. As LeMasters had said, the ladies' room was nice (stained glass and antiques in there), but recent remodeling has since moved it to the added room in back, now generic-looking stalls. A grill was in the front-right corner, they served soup and sandwiches, had a TV on a platform above the front of the bar, and several sporting events were evidenced by markings on chalk boards. Before we left, we stretched to see over the fence separating the bar from the neighboring cemetery. Sure enough, it was very small, and all of the headstones looked the same -- probably a veterans' cemetery. (A Vietnam veteran's funeral was mentioned in the book, and the study of the tavern coincided with the Vietnam War.) The clientele has changed since the book was written, but I still enjoy the bar as a historical sociological site.

Since this 1987 discovery, I've taken fellow sociology students, friends, and even my parents to the bar -- everyone enjoys it, especially if they've read the book. A few years later, on one of my trips to the tavern, I saw a plaque outside the door acknowledging the bar had been the subject of LeMasters' Blue Collar Aristocrats. Perhaps because LeMasters had died, and so much time had passed since the study was done, it would be o.k. with most people to reveal that information. But, for whatever reason, the plaque was gone the next time I returned to the site.

Up & Under Pub
As the name implies (or so I'm told), the Up & Under started as a rugby bar, but in the mid-80's it was known mostly for its Tuesday and Sunday open blues jams. I lived around the corner in 1987 and was a weekly regular for its Sunday jams -- fairly crowded events because of the number of musicians waiting to eventually get on stage. For a listener like me, it was a good one-stop sample of local talent. Although some of the younger musicians could be pretty good in a rock-blues sort of way, even the older black musicians were willing to get up and jam with the almost-average white band hosting the event every Sunday. (The hosting band did have a good guitarist who taught at the Wisconsin Conservatory of Music.) Eventually the pub became more of a college student/music fan's hangout in the 1990's, and I'm told the rugby owners sold to people interested in developing the pub's music crowds.

Let's do a historical ethnography, like a pseudo-"Blue Collar Aristocrats" or something... When I was a regular in the 80's, the audience was mostly musicians, college students, and a casually dressed crowd (working class or casual yuppies). Starting in about 1988, well-dressed yuppies came on the scene, particularly white women dolled up for the music events. Around the same time, Up & Under saw the return of Jimmy Liban, a popular local musician who had gone to Nashville to make good. His performances were so crowded that I only went once and stood at the back. I could hear the Nashville influence in his music, and he was pretty good. But I was more fond of the old-time black musicians who came for the open jams, so I never bothered to pack myself into a tight Liban crowd again.

In the mid-90's, I lived in California but occasionally returned to Milwaukee around my birthday to visit my folks. I was delighted to find that both the crowds and musicians had changed at the Up & Under. The band hosting the 80's Sunday jams had separated and its members had various contracts in Las Vegas and the like. Tom Wilson, me thinks the best Milwaukee blues drummer of the '80s, was the new jam host. The new audience was mostly college students who came for the good time of drinking, conversation, and music -- a fun & friendly crowd. I was told that bands played at the Up & Under almost every night, and some were rock instead of blues bands.

When I returned to Milwaukee after my accidents of '98, some of the best '80s Milwaukee blues musicians had taken over the Sunday show, and it was no longer an open jam. Billy Flynn was one of them -- during the 80's, I considered him to be the best white blues guitarist (and a good harmonica player) on the Green Bay & Milwaukee scenes. But at the time, I was told he had such a bad case of rheumatoid arthritis that his days as a musician were numbered. His moves on stage were jerky and exaggerated, and his nerd haircut and glasses made me think this was silly showmanship he'd developed over the years. Actually, he was in severe pain with every move. During the mid-90's, one of my old jam friends told me Billy had finally gone into medical retirement, only playing for special events. Imagine my surprise when I walked in for the 1999 Sunday show and saw him playing! Tom Wilson and the guitarist from the old band hosting the 80's Sunday jam were also in the band. They had Lee Gates as their special guest, a wonderful black singer/guitarist I'd seen playing since the '80s. I don't mean to sound prejudiced, but I tend to prefer the older black blues musicians, because as some white musicians have observed, "white boys" tend to add rock and jazz influences more often than not. Traditional blues is a scarce item among all-white blues bands.

Although I've obviously been out of Milwaukee for a decade, there are a few musicians I'd recommend if you can find them playing anywhere:
Willie Higgins (guitarist & singer who's kind of shy and doesn't sing very loudly, but is almost Hendrix re-incarnate on the guitar),
"Stokes" (an older singer & guitarist, with a very pleasant demeanor and good sense of humor),
Chris Beggan (singer, harmonica player, slide guitarist, and banjo player),
Billy Flynn (guitarist, harmonica player, & singer),
Tom Wilson (drummer & singer),
Lee Gates (guitarist & singer), and
Jim Liban (harmonica player & singer).



That's all the Wisconsin travel info I have so far. As I find older photos and have time, I'll post them here. Happy travels!


Back to the top

Back to the Pam's Travels page

Back to the main page

All content including photographs &copy 1999, 2000, 2001, 2002 by Pam Rotella.

Banner's photographs, left to right:
1.) Cave of the Mounds, Blue Mounds, Wisconsin; 2.) Mississippi River at night, New Orleans, Louisiana (top) and jester with Presidential and Vice-Presidential seals at American Celebration, Shenandoah Caverns, Virginia (bottom); 3.) Pine Creek Gorge, "Pennsylvania's Grand Canyon", Tioga State Forest, Pennsylvania (top) and the Scott Joplin house monument, St. Louis, Missouri (bottom); 4.) Skyline Drive, Virginia; 5.) Shenandoah Caverns, Virginia; and 6.) Dragon statue with sunflower stained glass lamp inset, The House on the Rock, Spring Green, Wisconsin.