www.PamRotella.com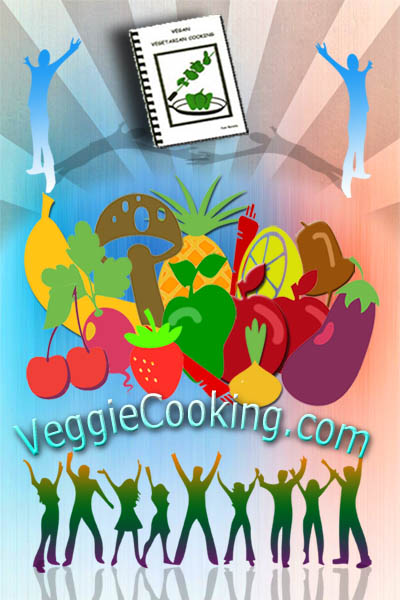 "Nothing but rich horse breeders here..."

A gallery of slums from Senator Bunning's state of Kentucky

2 March 2010
Pam Rotella


With Senator Jim Bunning of Kentucky (Republican, of course) holding up the Unemployment benefits extension, I decided to alter my travel plans this week to include Kentucky. This time it was only a matter of moving my travel route south, not a matter of money. (Stiff tolls in the northern states cost about the same as the extra gas to drop south to I-64.)

I don't mean to single out individual homeowners, rather I want to show that Senator Bunning's state has plenty of poverty and desperately needs Unemployment benefits, just like everyone else. And as the photos here show, any other aid would be good, too -- perhaps some neighborhood improvement projects...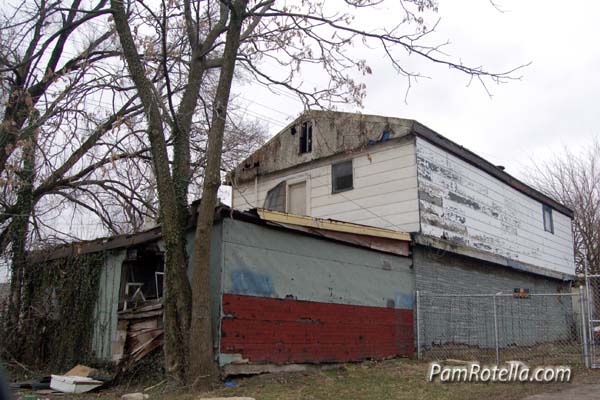 I drove through the state on Monday and Tuesday, stopping twice to take pictures of dilapidated housing. I didn't have extra time to do interviews, or to hang out at the Unemployment office searching for people on the verge of losing their benefits. Rather, I only wanted to show that Kentucky has slums like every other state. If there were ever an illusion that Kentucky doesn't know poverty, or that people there are all a bunch of rich horse breeders, this gallery will disprove it.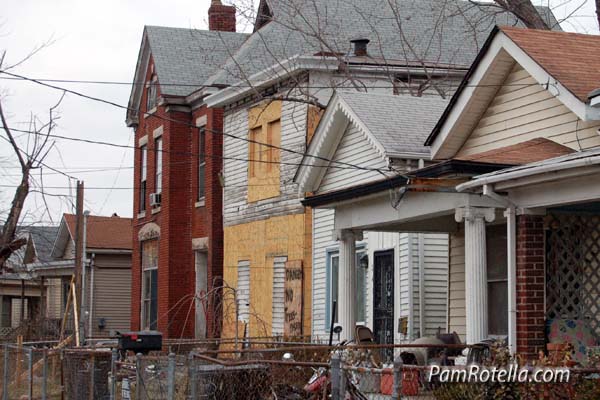 The two pictures above are from the city of Louisville. I could have spent weeks taking pictures of rundown homes there, Louisville has so many of them. Again, this isn't meant to humiliate individual homeowners, only to show that Kentucky has places much like Detroit, or Milwaukee, or any other city with impoverished neighborhoods.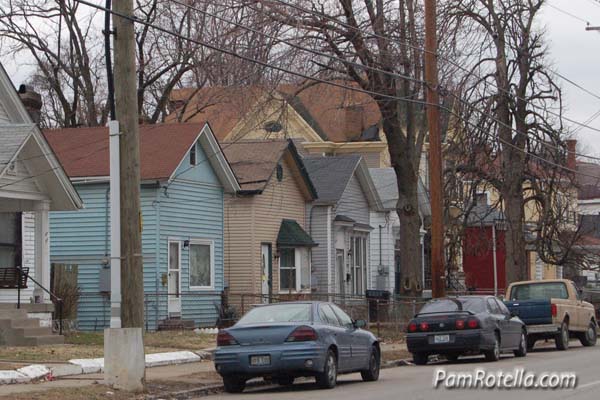 When I first spotted the neighborhood of older homes from I-64 and exited, I thought it looked a lot like any other city with neighborhoods of 100+ year-old homes.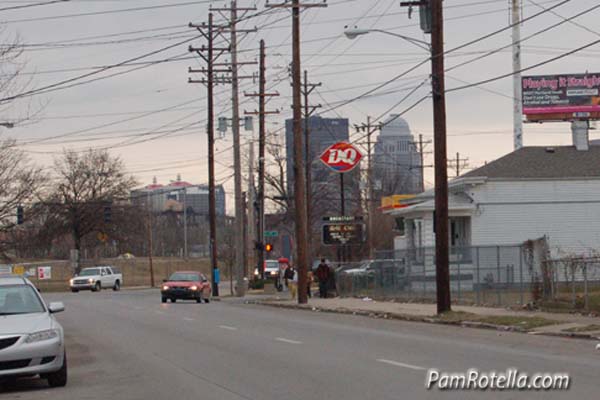 I turned around to take a picture of skyscrapers from downtown Louisville, to show how close this neighborhood is to the big buildings there.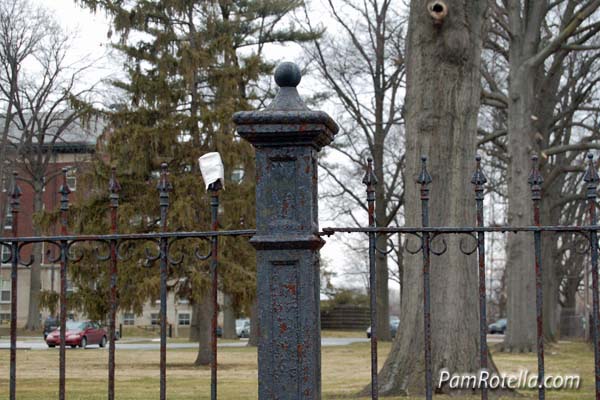 This wrought iron fence remains in front of an attractive old brick building, now used as a health clinic. Someone had put a pack of cigarettes over one of its bars. Clearly, the fence has seen better days; no one has sanded or painted it for a long time. Yet its aging design shows some of the elegance this neighborhood once had.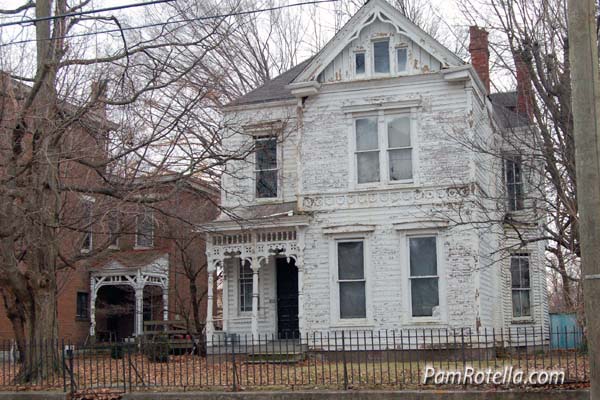 The house above is more proof of the past beauty of these old homes. If someone painted this house and fixed it up, it might be called a mansion.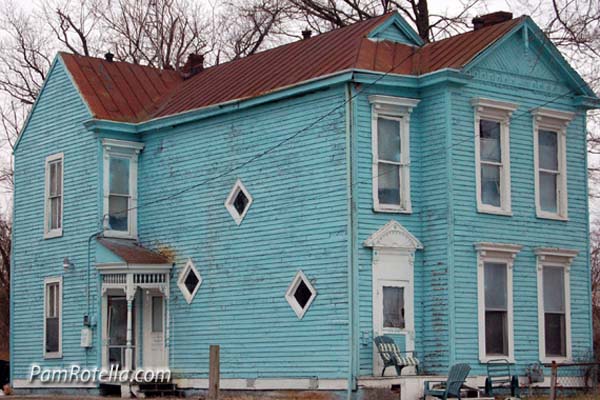 This is another large home in need of a paint job. I'm sure there are repairs needed on the inside as well -- usually when the outside hasn't been maintained for years, it's a sign that funds are short to make repairs in general.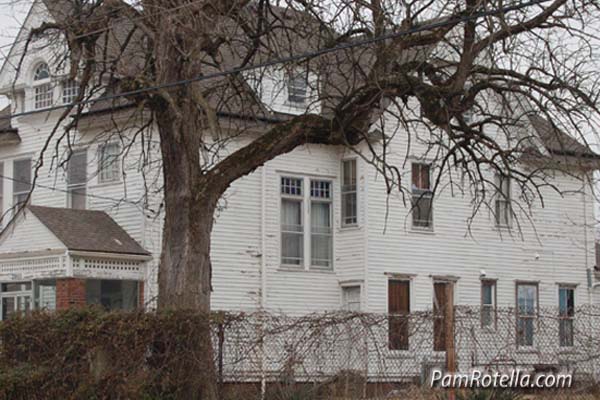 A drive down the street reveals home after home once large and beautiful, now suffering from years of neglect. In other neighborhoods, even in Kentucky, people with money have fixed up homes just like this, and now have beautiful neighborhoods.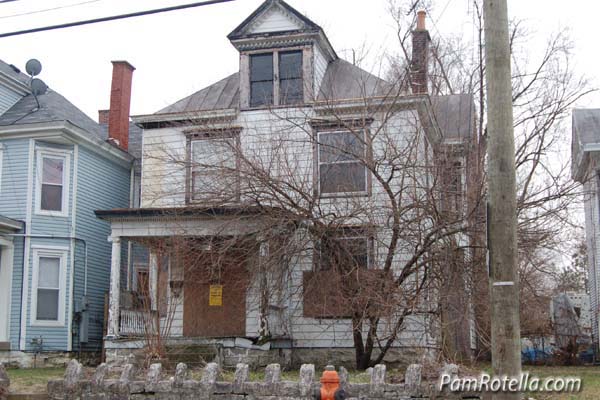 Several homes in this neighborhood had notices of demolition stuck to their doors (or boards where the door should be, in this case).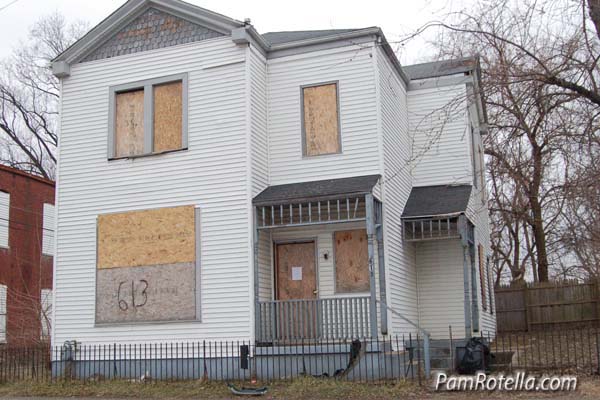 The areas I photographed in Louisville were on and around Portland Avenue and Montgomery Street, along with some neighboring side streets like 22nd and 27th.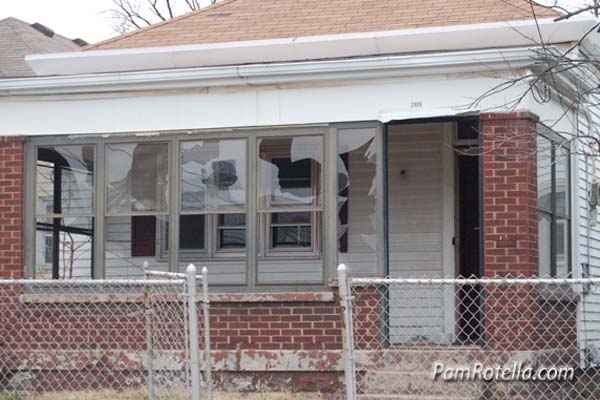 Some homes almost look OK, other than a little vandalism. This place seems to have a good roof and siding, but the sun porch's windows are all smashed.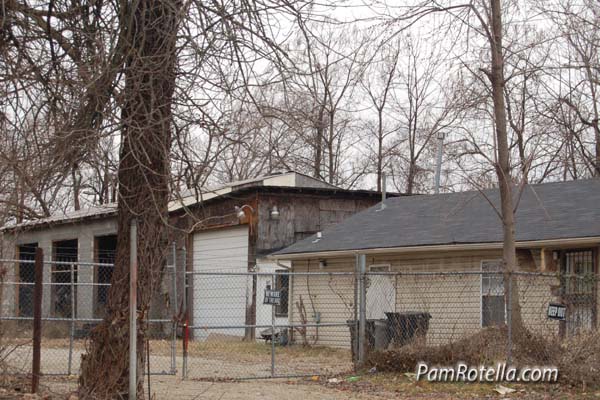 Garages can also tell a story.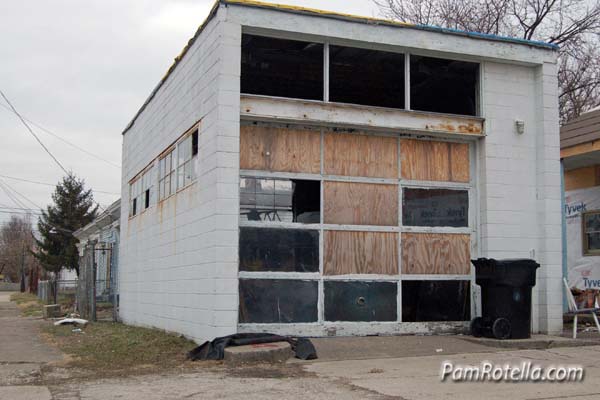 After I took a picture of this old garage, a man walking down the street wanted to know why I was driving around taking pictures of buildings. This garage was his family's property, he said. I explained that because a senator from HIS state was holding up the Unemployment Comp extension, I wanted to prove that people in Kentucky were hurting just like everywhere else. He seemed satisfied with the answer. I asked if he was on unemployment personally, and he said no. (So much for finding that quick and easy interview.)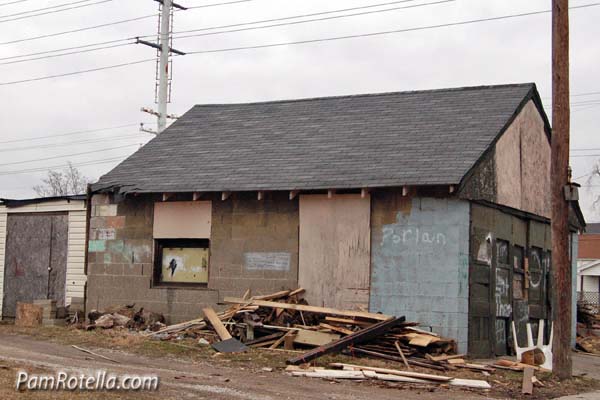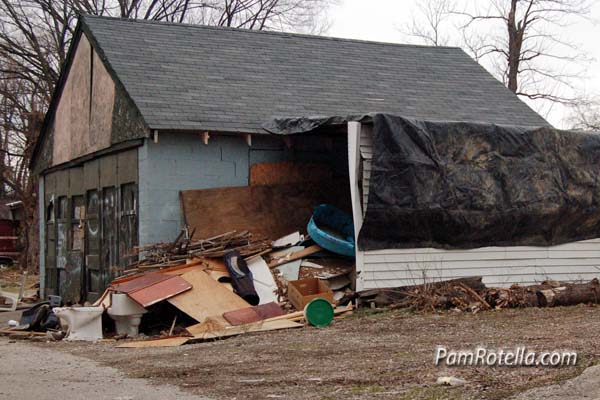 The two photos above are different views of the same garage.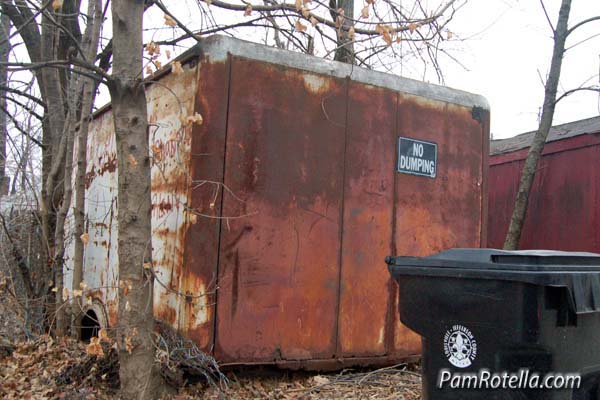 This old trailer seems to be used as a makeshift storage unit.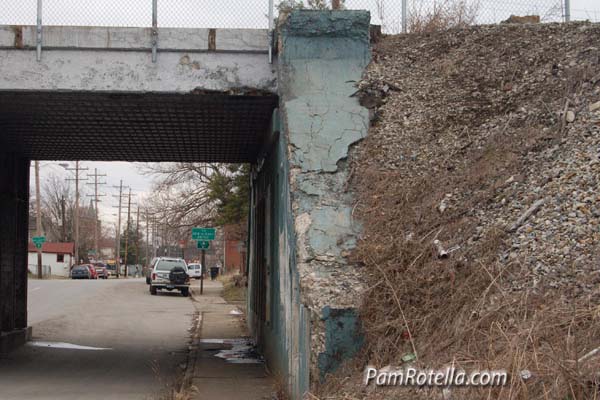 And what's a rundown neighborhood without a little infrastructure neglect? Here we see crumbling concrete, apparently not a priority for any road repair money the state has been awarded.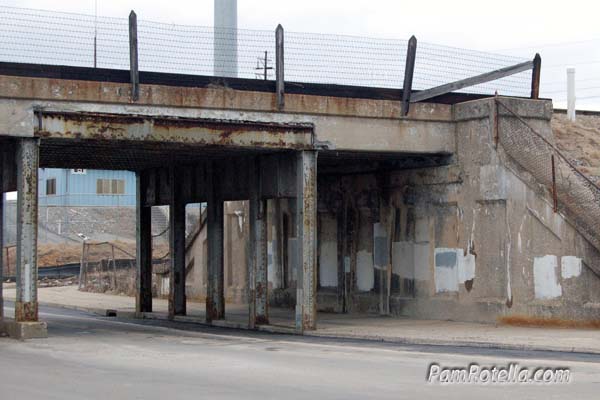 Another rusted, aging bridge, with gray paint covering old graffiti.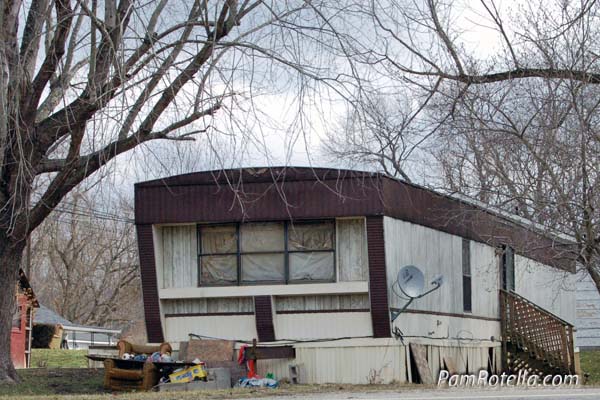 In rural areas, poverty looks a little different. The last few photos are from the Grayson, Kentucky area. Grayson has a few businesses, even a cute little downtown area with big houses a lot like those I photographed in Louisville -- yet in Grayson most of those big homes have been restored to beautiful mansions. Even so, business seems slow in Grayson. At the local Chinese restaurant where I stopped for take-out (reasonably priced at about $6 a meal), a large buffet was waiting for customers. Unfortunately, I was the only customer in the restaurant at the time, and I wasn't there for the buffet. When I stopped at the truck stop across the street, I saw very few customers inside making purchases, and anxiety seemed to hang in the air.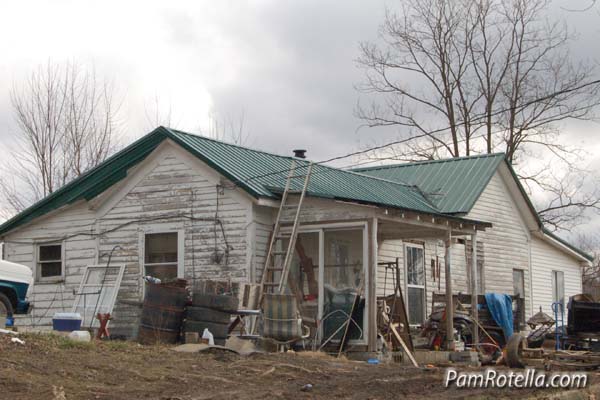 Rather than an entire neighborhood of old, rundown houses as in Louisville, in Grayson homes like this were interspersed among newer and seemingly expensive estates.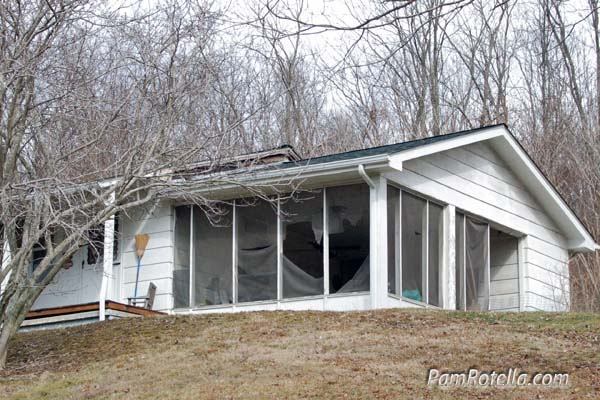 This home seems to be fine from the outside, other than its porch screens.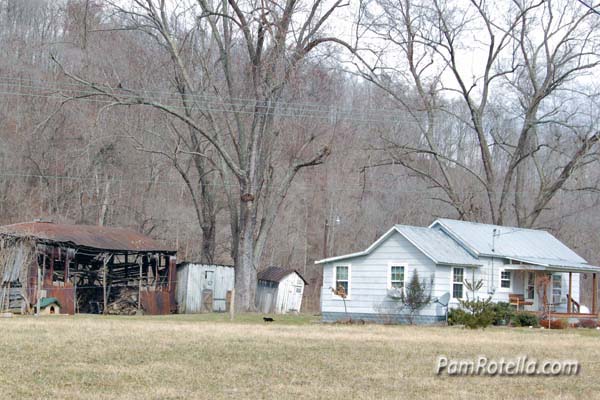 This home is showing some age but looks almost normal... until you see the sheds in the rear.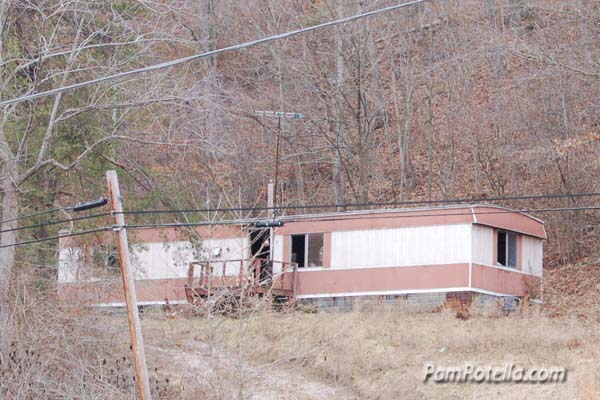 I'll end the gallery with this old trailer, the door broken down and a couple of window panes missing. Obviously it's abandoned. And that's what happens with a lot of homes in areas without enough jobs. People find work elsewhere, usually in the big cities, and can't afford to come back or even fix their old homes. It's the sign of a dying economy.

I could make remarks on how if Kentucky had better Senators, maybe they'd have better economic opportunities. But the reality is, almost every state has areas like this. The objectionable thing about Bunning is that he's willing to play politics with people who are already suffering from economic hardship. And as you can see by this collection of photos, his state of Kentucky isn't exempt from hardship.



Back to the top

Back to Pam's vegan vegetarian FUN page

Pam's vegan vegetarian cookbook, with vegan vegetarian recipes

&copy 2010 by Pam Rotella