Struggling to appear normal
Scott Walker and Memorial Day
28 May 2012
Pam Rotella

A parking attendant directed my car onto the grassy field used for Memorial Day services. That's when I first heard -- traffic had been worse earlier, when the governor had arrived.

Did I hear him right? The governor? I asked to be sure. Yes, it was that governor -- of Wisconsin, at least for now -- the nationally infamous. anti-labor governor, facing a recall election in just over a week: Scott Walker.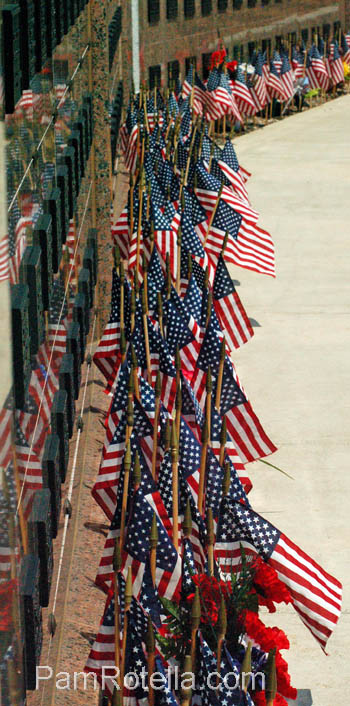 I'd never heard of a governor appearing for the humble Memorial Day services at the Veterans' cemetery in Union Grove. The biggest political name I recall from past services there was an aide sent by Senator Kohl's office, because constituent service is what Senator Kohl likes to do. The cemetery is quiet, located in the countryside surrounding Milwaukee in the open air of Wisconsin's windy prairies, among farm fields and a marshy area that occasionally attracted sandhill cranes in the past -- a small cemetery, near a small town. The larger, more popular services happen somewhere else. But then, it was Sunday morning -- maybe this was one of many stops over the long weekend.

Only in a recall year, I thought, as I grabbed my camera bag with my press pass -- the same pass I'd issued to myself after being harassed by law enforcement while covering the Eagle tornado. As I've told numerous photographers, journalists, politicians, and law enforcement officers through the years, I feel that bloggers should cover at least some local news, even if they normally cover specific issues or national politics. To build a good alternative press in this country, we have to contribute. Sometimes, as with the Eagle tornado, I only added a piece of the story, ignored by the mainstream press because they chase the biggest, best-selling portion of the story. Other times, as with the Art in Protest show, I was one of the few or only journalists there.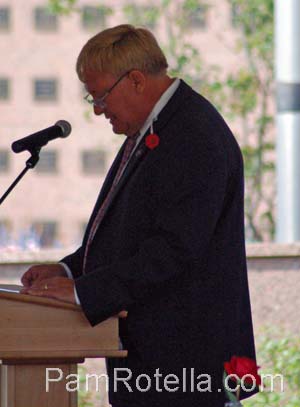 And so I stood near the front of the big white tent, to the side of the video cameras set up by local TV stations. I noticed only two other photojournalists there. One of Walker's aides approached me and told me that the governor would NOT be taking questions from the press after the event. I told him that was OK. Governor Walker has bought so much air time for his commercials and appeared on the news so often that most people are tired of hearing him.

Senator Van Wanggaard, another Republican facing recall, spoke before Walker. I was waiting for, even expecting, the embattled Republicans to turn the ceremony into a shameless promotion of themselves just before the recall, but Van Wanggaard's remarks were generic and designed to fit with the military theme. His face was bright red and he appeared to be exhausted, even on the verge of tears, throughout his speech.

The ceremony continued, accommodating the state politicians but not neglecting the usual services because of them. There was music and then Governor Walker took the podium. Again I expected the man to hijack the service to pander for votes, but he he didn't try to ruin the Veterans' service with his own political agenda. I recorded a few minutes of his speech but then stopped because it was a prepared speech on Wisconsin's military history, much like a typical child's school paper.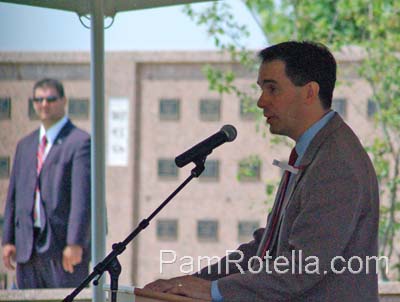 The big TV stations' video cameras taped most of the ceremony -- in prior years they didn't even bother coming -- and then left without an attempt to ask any questions of the governor.

I decided to stay after the event, to see whether the governor would be willing to talk with people who stayed late to see him.

What I saw was a man desperate to keep his job. He stayed after the event and shook every hand, posed for every picture, and signed every program requested of him -- although listening appeared to be limited to a few seconds per individual. Earlier, during the service, Walker had done everything that he thought was expected of him. He sat quietly behind other speakers during the ceremony. He tried to show respect for the military dead. He gave a speech that focused on the state's military and not his own political problems.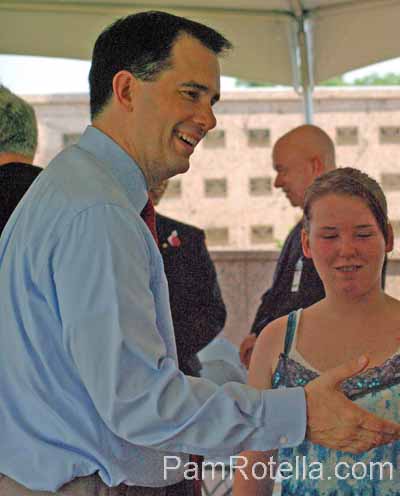 Walker was supposedly so dedicated to his extremist agenda that several state senators' political careers were worth sacrificing in recall elections prior to his own, along with millions in donor contributions. Yet at the event, he worked very hard to avoid becoming his own next victim, despite Van Wanggaard's apparent fate. Scott Walker wasn't going to miss an opportunity to keep or win a vote.

But finally it was too much. The man just couldn't keep himself together until the end.

It started with an elderly lady asking me who I was working for, and I explained that I sometimes write stories for different web sites, although my political coverage is usually about Virginia. She asked about the Senate race there -- both candidates are pretty famous. Tim Kaine was the former chair of the DNC, and the other guy, well... as I told her, George Allen is the one who said "Macaca."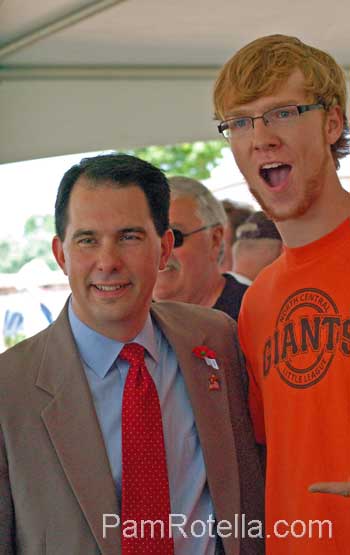 When I uttered the word, a few heads from Walker's entourage jerked around and looked at me. That's what I said -- Macaca.

Within the next few minutes, as Walker was chatting it up with an ever-thinning crowd, he mentioned to another elderly lady that they'd just found out who I was -- that I was in with the Virginia Democrats. Then he said that they were going to make me "pay" for that. The lady seemed shocked at his language, and her facial expressions changed from a smile to one of disbelief, as if to say "Are you really that mean?"

I just kept taking pictures. Leave it to Scott Walker to attack the only press who bothered to stick around for him. I knew he couldn't keep up the appearance of being normal forever.

I assume the part about him making me "pay" referred to politics and not something worse. Whatever he meant, karma has a way of finding people like that. Perhaps we'll be seeing some of that karma next week...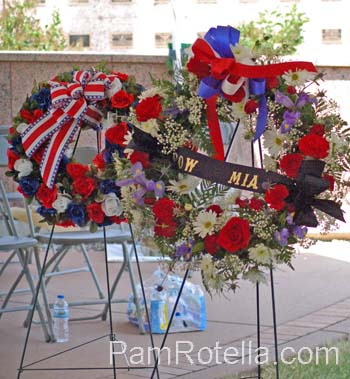 Back to the top

&copy 2012 by originating sources and Pam Rotella.

Back to Pam's vegan vegetarian FUN page

Pam's vegan vegetarian cookbook, with vegan vegetarian recipes