PamRotella.com

Virginia Politics -- "We don't have any Kennedys!"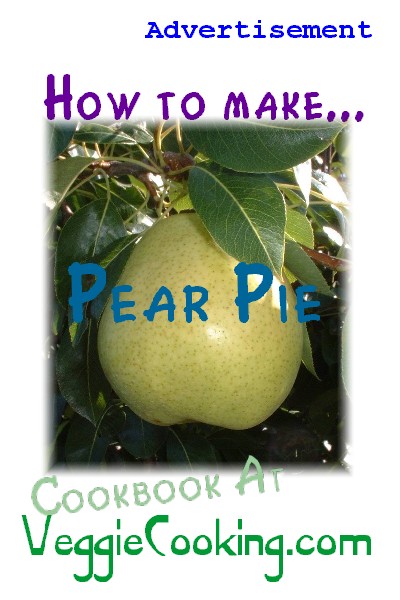 [Posted 11 June 2006]

My most recent consulting job sent me to Virginia. Although it seems like I've been through that state/commonwealth about a million times, this is the first time I've had to work there.

Actually, I have tremendous respect for certain people in Virginia -- some incredible people in the alternative health field live there. And my father's grandfather settled in Virginia. That was Salvatore Rotella, one of many Italians who immigrated to the United States because of advertising in Italy for workers by the US coal mining industry. He became a coal miner for US Steel and eventually came to Virginia as "Mike Bennett" according to company records -- they had to change his name, they said, because the Irish unions would never let an Italian work in the mines. He was made supervisor because he was bilingual in English and Italian -- I guess a lot of the "Irish" mine workers needed someone who could speak Italian. In his later years, Salvatore owned a local restaurant.

I was 12 years old when I first visited Virginia to see my Aunt Virginia, Uncle Marshall, and other relatives there. Actually, Virginia and Marshall were my Grandfather Dominic's sister and brother, and so they were "Great" Aunts and Uncles. Uncle Marshall was President of the Musicians' Guild in Richmond for a while, and I think he was also Director of the Parks system there -- I can't remember his exact title. He gave us a great tour of the city. I still remember the tour including a mummy at a museum. Uncle Marshall died 5 years later, when I was 17 years old. All of my grandfather Dominic's other siblings have since died of old age, of course, as has my grandfather. Yup, 12 years old was a pretty long time ago...

For some reason, life keeps bringing me back to Virginia. Not to stay -- usually I'm in and out to look at caves, or passing through to another destination. But thanks to the Internet, I can hang out with Democrats whenever I'm there as a consultant. At the moment, it turns out that the state is going through an interesting time politically. Moveon.org has been running television ads in the area targeting Thelma Drake, a Congresswoman who basically rubber-stamps nearly everything George W. Bush wants, and of course takes truckloads of money from the same special interests as Bush. Also the Virginia Senator George Allen, another Bush goon, is thinking of a run for President in 2008. But Allen's Senate seat is up this year, and it's not exactly a good time for a known Bush lackey to be running for office, with Bush's Iraq War and $3 gasoline still going on. Two people are running to replace Allen as Senator -- a primary next Tuesday will determine which one faces Allen in November. I'm sure Allen's campaign will be vicious, as he'll be running to protect both his Senate seat and his Presidential aspirations.

Last week was full of political events, with the ramp up to this Tuesday's Democratic primaries in addition to the area's normal politics. I was expressing my frustration at a couple of these events because one of the Senate candidates -- Jim Webb -- was Secretary of the Navy under Reagan, and only recently came over to the Democratic Party. I'm not exactly fond of taking in so many McCain and now Reagan Republicans. I know they have no place to go, with Bush & his extremists taking over the Republican Party and basically ruining it, but I don't like the Democratic Party moving any further to the right. As if it's not plenty conservative already! And Southern Democrats behave like Republicans anyway. To me, "real" Democrats are like Howard Dean and Dennis Kucinich.

To top it all off, the candidate running against Webb -- Harris Miller -- is a lobbyist. So after listening to me complain about all of this, one of the local Democrats asked me, "Well, what do you expect? We don't have any Kennedys!"

As luck would have it, a major political event happened a few days later, and for Democrats, it was about as major as it gets -- BOTH Democratic candidates for the US Senate were there, as well as Phil Kellam, the Democrat running against Thelma Drake for US Congress, plus other notables. I convinced a couple of friends from the area to come with me, and the place was PACKED with people who'd come to see the candidates in person. Obviously, the Senate candidates only have until this Tuesday to campaign for the primaries, and so they have to hit as many major events in as many cities as possible.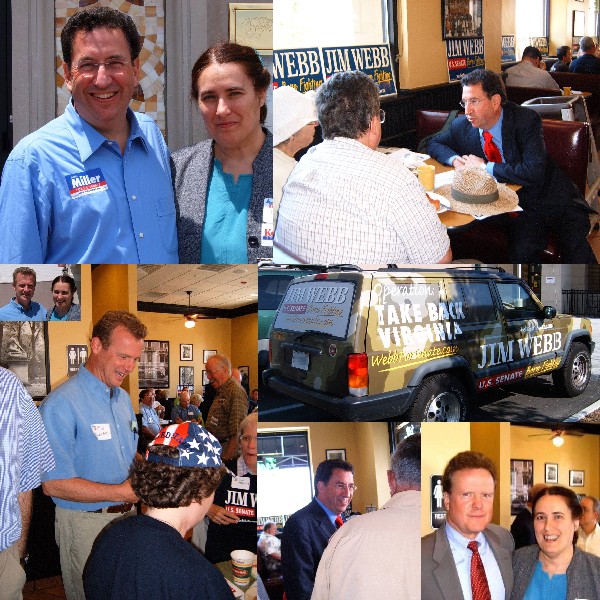 The only candidate I'd seen before was Webb, Reagan's old Secretary of the Navy -- a good-looking redhead who'd spoken at a different event in Hampton. Otherwise, going into the event, I had low expectations. All I thought I'd see was a disaffected Reagan Republican, a lobbyist, and a politician whose campaign was already taking off thanks to interest generated by moveon.org. As I walked up to the restaurant, Webb had his campaign jeep outside, painted in camouflage. (It turns out that his opponent, Miller, drives a Hybrid.) Webb definitely had a larger turnout supporting him, probably because this particular event was in Virginia Beach, a region permeated by Naval military bases. Miller had quite a few supporters, too, and he was more the traditional Democrat. He'd never been a Republican, of course had never worked for Ronald Reagan. But Webb had actually quit his job as Secretary of the Navy under Reagan, apparently because he didn't want to swallow budget cuts, and so he was never a total Reagan lackey.

This is a horrible oversimplification, but both men agreed on so many of the issues that I'm going to try to differentiate between the two anyway. (By the way, both say they'll work to gracefully pull the US out of the Iraq War, so the most popular issue is covered.) I think Miller's strongest argument is that he's the real Democrat, that he'd best represent traditional Democratic causes. And that's probably true -- case in point, the Hybrid his campaign uses. Miller's opponent Webb doesn't say this directly, but his campaign is very clear on the point that they feel he's the one who could defeat Senator Allen, and it's easy to see why. He'll get the Republican vote! And if Webb takes the primary, who else can Democrats vote for? So he'll have all of the Democrats and a good portion of Republicans voting for him, at least a good number of the McCain, Reagan, and disaffected Bush Republicans. Allen will put up a fight, but it's true that Webb will be tough to beat with the Democrats backing him.

Really, I was impressed with all of the candidates. The first one to offer to have his photo taken with me was Webb (see lower right-hand corner of the photo collage above), who threw his arm around me and smiled like a pro. Afterwards, I informed him that I couldn't believe I'd had my photo taken with someone who'd worked for REAGAN, that I rail on Reagan all the time on my web site. But it was TOO LATE! He'd already had his photo taken with PAM! Bwa-ha-ha! Phil Kellam also let a friend and I take photos with him (middle-left inset), and Harris Miller was just way too nice. One of my friends went to talk to him as he packed his hybrid to go, and he offered to have coffee with us until it was time to leave for his next event. He listened to my friend and I, mostly my friend, all through lunch. And then of course we each had our photos taken with him (see upper left-hand corner for mine).

I couldn't believe that I left the event liking ALL of them. But they'd all make great representatives, and I wouldn't mind seeing any of them representing Virginia next year. We'll see if Virginians can turn things around for themselves next year... even without Kennedys.


[Updated 20 June 2006]

UPDATE: The night of the elections, I was on my way to New York. I stopped at a bar on the Virginia-Maryland border after the polls had closed, hoping to see a news clip on who had won the election. ABC was on the bar's TV for over an hour while I was there, with only a basketall game showing -- no newsflash on who had won the primaries. It wasn't until I bought the NEW YORK TIMES Wednesday morning that I read who had won VIRGINIA's election:

***
Virginia Democrats Back Ex-Navy Secretary in Senate Race
by Anne E. Kornblut
[New York Times, 14 June 2006, page A18]

WASHINGTON, June 13 - James Webb won the Democratic Senate nomination in Virginia on Tuesday night, securing his role as the challenger to the incumbent Republican, George Allen, in this fall's midterm election.

With 80 percent of precincts reporting, Mr. Webb, a former Republican who served as Navy secretary during the Reagan administration, had 69,256 votes, or 54 percent. His opponent in the primary election, Harris Miller, a former lobbyist who spent about $1 million of his own money on the race, had 58,716 votes, or 46 percent.

National Democratic Party leaders had pinned their hopes on Mr. Webb as the more viable challenger to Mr. Allen, a popular incumbent who is also considered a potential 2008 presidential candidate.

Indeed, the primary played out against the backdrop of the next presidential race. Both Mr. Webb and Mr. Miller began their campaigns after Mark Warner, the former Democratic Virginia governor and a potential presidential contender, decided not to challenge Mr. Allen. And in the final hours of the race, Senator John Kerry of Massachusetts, the Democratic presidential nominee in 2004 and another possible candidate in 2008, appeared with Mr. Webb.

With a campaign slogan -- "Born Fighting" -- that emphasized his independence and his national security experience, Mr. Webb had come under fire from his opponent as having dubious Democratic credentials. Mr. Miller, a party stalwart well known in heavily Democratic Northern Virginia, had repeatedly campaigned on the fact that Mr. Webb had endorsed both Mr. Allen and President Bush in 2000.

Mr. Webb had campaigned against Mr. Miller for his liberal spending on the race, at one point distributing fliers that showed Mr. Miller with money flowing from his pockets and a hooked nose. Mr. Miller, who is Jewish, denounced the image as anti-Semitic; Mr. Webb denied intending a slur.

Senator Charles E. Schumer of New York, the head of the Democratic Senatorial Campaign Committee and a champion of Mr. Webb's, credited his independent streak and his aggressive campaigning for the victory.

"People wanted a candidate who spoke his mind, who said what he thought, who was going to shake Washington up," Mr. Schumer said in an interview after the election results were in. "I think this is going to be quite an interesting race."

Mr. Schumer said that with Mr. Webb's victory, he expected the Virginia race to become more competitive and to put the balance of the Senate into play.

"I think people want change, and George Allen has been part of the status quo," Mr. Schumer said.

Dick Wadhams, the campaign manager for Mr. Allen, said, "We hope that Senator Schumer and John Kerry and Tom Daschle and Harry Reid campaign all day every day in Virginia for Jim Webb."

Mr. Allen, a former Virginia governor and the son of a renowned coach of the Washington Redskins, was first elected in 2000.
***

PAM COMMENTARY: Notice how the Times is already giving a spin on Virginia's race as hillbilly politics, i.e. Jew-hater vs. Retard-O-Redneck. New York City has a huge Jewish population, and I'm sure info on the caricature made some people wonder about the motives on that one. Then the opposing candidate's manager insulted New York's senior Senator, Chuck Schumer, along with John Kerry, two of the most effective and respected Senators in the United States.

The article ends by mentioning Allen's credentials as being a former governor and THE RELATIVE OF A FAMOUS COACH. Ya know, I was never going to bring this up because it's just trivia, but one of MY relatives just happened to be an assistant coach at Georgetown University for a number of years, and I think that's the same Rotella who wrote books on Sports Psychology. People who'd read his books in college would ask me if I was related to the man, who apparently also taught classes on the topic. I'd tell them that yes, we were distantly related, but no, I didn't know the man personally.

So now that I've established that I'm related to a famous coach, I qualify for Governor and Senator of Virginia, right? In fact, since I'm a woman, I can probably handle both jobs at the same time!

I tell ya, the dumb things people toss out there as credentials...

But wait, there's more... One thing I miss the most about consulting out-of-state is having a nearby Pacifica radio station. While I was driving back to New York, I had my radio tuned to 99.5, waiting for WBAI to break through the music station interfering with its broadcast in southern New Jersey. Finally, as the song "Borderline" zoned in and out, I heard Amy Goodman's sweet, critical voice break through... "From Pacifica... THIS is Democracy Now!" What a relief, and what a show to catch while I was back in the city:

***
Amy Goodman's interview with Greg Palast, 14 June 2006, on Democracy Now!

AMY GOODMAN: We turn now to Greg Palast. His new book is called Armed Madhouse: Who's Afraid of Osama Wolf?, China Floats, Bush Sinks, The Scheme to Steal '08, No Child's Behind Left, and Other Dispatches from the Front Lines of the Class War. Welcome to Democracy Now!, Greg Palast.

GREG PALAST: Thanks, Amy.

AMY GOODMAN: Before we talk about the class war -- what isn't supposed to be talked about in this country -- I wanted to ask about a very specific story that you touch on in the book but have seemed to gather more information on, and that is the story of black soldiers in Iraq and voting here at home.

GREG PALAST: Yeah. They went after -- they lost their vote. Let me explain what happened. A lot of people know me from my story of how -- for BBC, that I reported here for you -- how just before the 2000 election, thousands of black voters were scrubbed off the voter rolls of Florida, by Jeb Bush and Katherine Harris, you know, who wiped out all of these voters -- 94,000 -- claiming they were felons, criminals, but their only crime was voting while black. And we busted that story on BBC, and it took years to get over here, but that's how 2,000 was fixed. So I looked at 2004 for BBC, and we were able to get out of -- they didn't go after the felons this time. The new target group -- or they did, but now they've added a new target group: suspect voters, with suspect addresses. And I was able to get out of Republican Party computers, using a fake front, actually working with a joke website, GeorgeWBush.org, we literally sucked files and emails out of the Republican computers. I know some people may object to that but --

AMY GOODMAN: Explain what you mean.

GREG PALAST: Well what happened was the top brass of the Republican Party, a guy Tim Griffin, who is head of operations and research, was sending a bunch of emails to the chairmen of the state committees, top-level guys of the Bush campaign in 2004, attaching lists of voters and addresses -- very unusual. What's all of this clerical stuff going on back and forth between the very top guys? And they're saying, "Here's a caging list. Here's another caging list. Here's another caging list."

AMY GOODMAN: What do you mean, 'caging lists'?

GREG PALAST: Well, it's these spreadsheets with names and addresses of voters. It was really odd and why the top guys were with it.

AMY GOODMAN: But I still don't understand why you were seeing these lists.

GREG PALAST: Ok, what happened was, is that GeorgeWBush.com was the internal secret way of communicating through email in the Republican campaign. Someone changed one address from "com" to "GeorgeWBush.org." That allowed us, through a false website, GeorgeWBush.org, to suck down all of these emails at the top level of the Republican Party, and attached were these sheets. And at first, we didn't know what the heck they were until the team -- we had 70,000 names from one state, of names on these so-called 'caging lists'. We do the demographics, and first we go -- and by the way, we went straight to the Republican Party for BBC and said, "What are these?" And they said, "Lists of donors." And there's page after page of guys from homeless shelters. You know, I don't think there's a lot of Bush-Cheney donors there. "Donors? You get another -- We'll give you another chance to answer the question." They wouldn't answer.

The experts say, look at the demographics. We'd spent endless hours matching whose names were on these secret sheets against the demographics, the racial breakdown of the -- of where these voters live. 98% were in African-majority precincts, African-majority precincts, except for 2%, which were in Jewish-majority precincts, retirement areas in Miami. What was this about? These are called -- These are "challenge" sheets. It was a secret system to challenge tens of thousands of voters, actually hundreds of thousands, maybe a million voters in the United States. We had over a million challenges in the United States, never seen before in the United States.

How did this happen? This was the secret program. Now, who was on these sheets? What was the basis of challenge? What they said is these people have -- "Oh, they have suspect," you know -- when we finally caught them with it, they said, "Oh, suspect addresses." Well, who's suspect? We looked. Page after page, and I have a page here if you -- on the radio you'll just have to take my word for it, but a page where every name says "Naval Air Station." "Naval Air Station, Naval Air Station, Naval Air Station," page after page of African-American soldiers, sailors and seamen, who were targeted on the challenge list to have their vote challenged. How? We called up -- we called them up, their families, and one, for example, Randy Prousa, was the first one we got. We said, "Where is Mr. Prousa?" Is he really at this address? Is he a fake voter?" And they said, "Well, Randy has been sent overseas, he shipped overseas." These are soldiers, black soldiers shipped overseas to Germany, to Baghdad, and now they're being challenged by the Republican Party because they were not at their voting address.

AMY GOODMAN: Now, explain how the challenge works?

GREG PALAST: Very simple. Anyone can challenge another voter. In other words, Amy Goodman can say, "Greg Palast shouldn't vote."

AMY GOODMAN: I can at the poll and saying, "I challenge his" --

GREG PALAST: You can be at the poll. There's two ways to do it. One, you give to elections officials evidence that this is a voter, who if their absentee ballot comes in, should not be counted. And you have to understand; 3.6 million votes were cast and not counted, mass challenges all over the swing states.

AMY GOODMAN: Do you know if I've challenged your vote, if you're an absentee voter?

GREG PALAST: No, and so --

AMY GOODMAN: You don't know if your vote has counted?

GREG PALAST: No, unless you're standing -- unless it's a challenge right there and you're standing there, but even -- by the way, this is the other evil -- even if you're standing there and you're challenged, in the 2004 election, three million people, if they were challenged, were not given real ballots, they were given what's called "provisional" ballots, and those provisional ballots, of the three million ballots cast, 1.1 million were never counted, 88% of those, black voters, by the way, and Hispanic voters.

AMY GOODMAN: You mean, if I was standing at the poll challenging you, then they would give you a provisional ballot, and they would decide whether they would count that ballot later.

GREG PALAST: That's right, and it went two ways. In the case of the black soldiers, what was particularly evil -- see, in the felon case, they could make some type of claim, 'Oh, we didn't know that we had a bad list; we didn't know that these were innocent people.' Like, in fact, in 2004, Bernice Kines, she was convicted of a felony. Right on their list it says -- and we had thousands of these -- "Bernice Kines, convicted on July 31, 2009." I said -- when we confront the state is -- what about, you know, I mean, this is quite a master criminal that, you know, she can commit a crime in the future. You didn't know that this was a false name? Ok. They had an excuse, though. They said, 'we didn't know, it's an error.'

What about black soldiers? Here's what they did. They sent, we found out -- here's now what we've just found out. They sent first-class letters to the homes of African-American soldiers shipped overseas. They wrote on the envelopes "Do not forward. Return to addressee." Well, of course, they're shipped overseas, so the letter can't be forwarded, to Baghdad or Germany, or wherever. Letters are sent back to the Republican National Committee, filtered back out to the state committees, and then elections officials are told, 'These people don't live at that address. We have evidence that they're falsely registered.'

Now, here's the trick. You send in your absentee ballot. That is a great act of faith, probably the greatest religious act of faith since Moses walked across the Red Sea, you know, hoping that he wouldn't get drowned. You just mail in that ballot, and soldiers -- this is, remember the Republican Party made a big deal about Al Gore complaining about soldiers' illegal absentee voting. These people knew that these soldiers couldn't defend themselves, would not know that their ballot would not be counted, would be challenged. And there's no way, I mean you could -- from Baghdad you can fight George's war, but you can't fight for your ballot -- massive, massive, nationwide challenge.

In places like Wisconsin, by the way, we've just discovered -- How did they even know how to challenge these people? They were using Blackberries loaded with the names. This is one expensive multimillion-dollar operation, and by the way, Amy, it's illegal, okay? One of the reasons why the Republican Party didn't 'fess up when we showed them the sheets and they said, 'Oh, it's donors,' is that if you target black people, or Jewish voters, as they did in a few districts, because that's a democratic demographic, if you challenge these people, that's against the law. That's against the voting rights act of 1965. It's a felony crime, you know.

So you can't, you can't just -- You know, this is the old gimmick of -- like they used to have literacy tests in the South in you know, in the Jim Crow era, where only black people were asked tough literacy questions. Same thing, you cannot target just African-Americans. I mean, you go to jail for that. The only problem is -- and people ask, 'Why didn't they go to jail now that you've caught them?" Because the cops, the voting cops in the United States are in the U.S. Justice Department, and at the time, 2004, the voting cop was John Ashcroft. You know, George Bush's guy, and now we have Gonzales.

I mean, the U.S. Civil Rights Commission, called, by the way, for a criminal investigation when I began showing this evidence. I don't give them my sources, but I do give them the public evidence, with the BBC's approval. You'll see it in the book. They did vote for criminal investigations. This never got reported in America. The reaction of the Justice Department was to completely ignore the demand for a criminal investigation, and George Bush fired every member of the Civil Rights Commission that voted for the criminal investigation. Do you like that?

AMY GOODMAN: We're talking to Greg Palast, author of Armed Madhouse. Very quickly, Greg, on the issue of class war, where this relates, if you can just summarize your thoughts?

GREG PALAST: Class war -- look, when they take away your vote -- 3.6 million people cast ballots that didn't count. While race is the badge of poverty, what we're finding is that it's the income of the voter that mattered on whether your vote counted. It's not -- and, look, you go through my book and you've seen my reports on your show. Whether it's Iraq, what Huey Long of 70 years ago, used to call "rich men's wars."

AMY GOODMAN: Huey Long being --

GREG PALAST: Huey Long was the governor of Louisiana, and it's a very simple point. Whether it's Iraq, whether it's elections, whether it's Hurricane Katrina, and whether it's Enron that we've discussed. These are all aspects of a class war against the very powerful and the very wealthy, against the average person. We've had a class war declared in America, and one of the points in the book is that these are -- all of my investigations are really investigations of various fronts in the class war. And we are not shooting back because we don't have a general. The closest thing we have to a general is far away in Caracas, Hugo Chavez. And we've been here before in America. You know, last night, you and I were with Paul Krugman, who said, 'We need a new F.D.R., a new Franklin Roosevelt to bring us a New Deal, to turn things around.' That's not how it works. Back in 1927, the entire nation changed when the levees of New Orleans broke and New Orleans was drowned. This entire nation -- it was a Republican era, Republican Congress, Republican President. Business was in charge of everything, then New Orleans' levees broke. And --

AMY GOODMAN: The great flood of 1927.

GREG PALAST: The great flood of 1927. When the floodwaters hit Louisiana, one guy -- and Democrats were saying nothing except, 'Balance the budget.' One Democrat stood up on the back of a flatbed truck, grabbed the Internet of the day, which was the radio. He was the first guy to use radio. He grabbed the radio microphone and said, "This is it. The rich are drowning us. The rich don't pay for our schools. The rich are leading us into their wars for oil." -- At that time, by the way -- "The rich will not give us social security for old age. They are not protecting us or providing infrastructure. They are not saving us from deadly work, and they're letting the oil companies and the banks control this nation, and we have got to end it. We're going to take this nation back. We're going to share the wealth. Join with me." And there was a huge national uprising.

Huey Long created something called "Share the Wealth clubs." And it went like a prairie fire, man. It was explosive. And the Democratic Party itself got scared to death. And I hate to say it, two things happened. First, they assassinated Huey Long, who had become governor of Louisiana and was heading towards the White House, but then Franklin Roosevelt, a very weak governor, conservative governor of New York, conservative Democrat, suddenly said -- took on Huey's spirit, kind of, and said, 'Okay, because we're going to lose this country, and even the billionaires are going to lose their billions.' And so, it was not that we had a great man. This is a new myth that we had a great man, F.D.R. What we did was, we had a great movement that found F.D.R., and F.D.R. found the movement, and that changed America. It's 1927 again, Amy. It could be.

AMY GOODMAN: Greg Palast, I want to thank you very much for being with us. His new book is called Armed Madhouse: Who's Afraid of Osama Wolf?, China Floats, Bush Sinks, The Scheme to Steal '08, No Child's Behind Left, and Other Dispatches from the Front Lines of the Class War. Thanks for being with us.
***

Back to Pam's rants

Back to the top

Back to Pam's vegan vegetarian FUN page

Pam's vegan vegetarian cookbook, with vegan vegetarian recipes

&copy 2006 by Pam Rotella; Amy Goodman's interview subject to copyright notices of Democracy Now! and Pacifica Radio/WBAI New York; Anne Kornblut's article subject to copyright notices of the New York Times