<-- Previous page (7) | Next page (9) -->
"Art in Protest" banned art show - photo gallery page 8 of 11
15 March 2012
Pam Rotella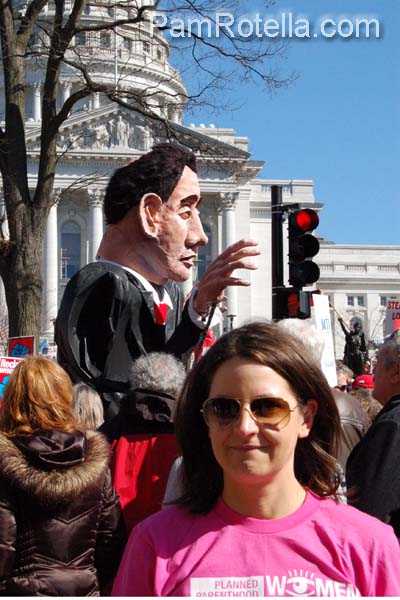 The rally earlier in the day had some outstanding art, like this giant likeness of Walker circulating through the crowds.

I liked this photo of Walker's effigy the best because of the lady in the foreground wearing a Planned Parenthood T-shirt. Women's issues were a common theme in the crowd, with outrage over the recent Planned Parenthood funding scandal, Rush Limbaugh's piggish comments, and "trans-vaginal ultrasound" legislation passed in Virginia and elsewhere.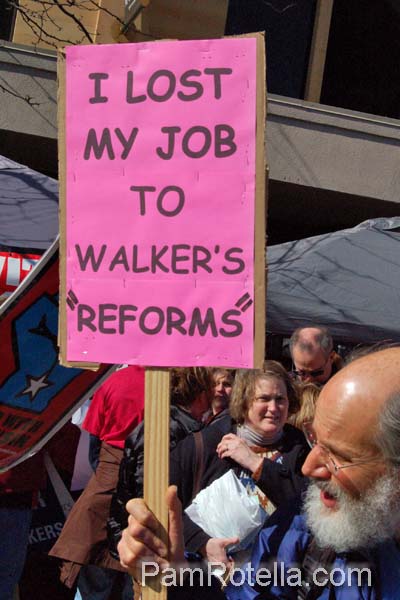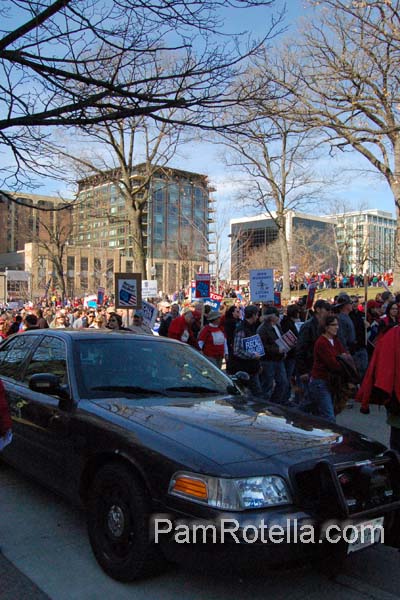 This is the one unmarked police car that I saw on the square, mentioned in my interview with "The Box Man," Bruce Noble. It probably belonged to the one cop I saw, eating a sandwich in front of a plate glass window. I didn't take his picture, though -- it's rude to take pictures of people while they're eating, and anyway I didn't know that he'd be the only cop in uniform on the square. He's "SUUUPER COP," managing a crowd of 65,000 with his mighty SANDWICH.

Actually, he controlled the crowds with the AWESOME POWER OF HIS... radio. He could have called for backup if anything had happened. Unless the police were expecting a riot, there was no reason to dispatch an army of them, as we've seen in other cities with the apparent goal of harassing and interfering with protests.

The photo below shows one of several squad cars blocking off streets going into capitol square. The police had to do this -- otherwise people may have driven into the crowds, not knowing that a rally was in progress. Cars could have hit people, or could have become trapped inside of the masses of pedestrians.

Also the policemen ringing the square in these cars were available to help if anything got out of hand during the rally, which it didn't. I'm sure there were a few cops out of uniform, with other union members on the square, too.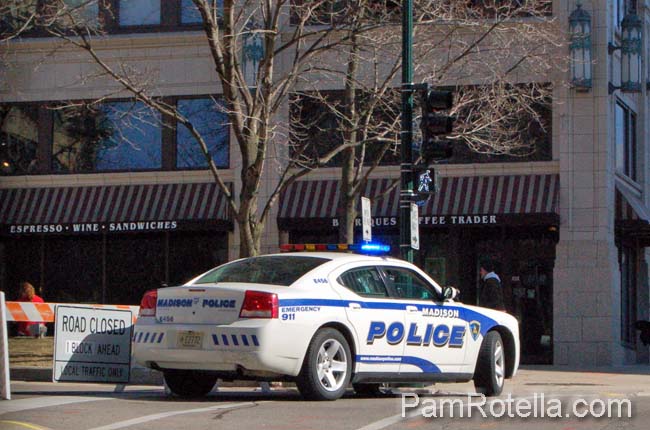 <-- Previous page (7) | Next page (9) -->
Back to the top

&copy 2012 by respective artists and Pam Rotella.

Back to Pam's vegan vegetarian FUN page

Pam's vegan vegetarian cookbook, with vegan vegetarian recipes