Banned "Art in Protest" show follows pro-labor rally in Madison
12 March 2012 [last update 17 March]
Pam Rotella


A pro-labor rally brought tens of thousands to Capitol Square in Madison, Wisconsin, on Saturday. Rallies have been held in several cities over the past month to celebrate the popular uprising that began more than a year ago.

Over the past year, citizens have protested and organized against Wisconsin Governor Scott Walker and his attacks on organized labor. Walker faces a recall election later this year.



Phil Neuenfeldt, president of the Wisconsin AFL-CIO, greeted the crowd with "We're baaaack!"

Neuenfeldt said that people who "work hard, play by the rules, provide for their families" are under attack.

"Brothers and sisters, these families are real. Their pain is real. Your pain is real. And it is the kind of pain that has no place in our Wisconsin!

"Never before, brothers and sisters, never before have we seen a governor who had to create a legal defense fund. Never before have we had a governor who lied his way into office. Never before have we had a governor who has shredded the social contract ..."

Neuenfeldt mentioned several other grievances, largely inaudible due to the volume of the crowd, followed by "...Brothers and sisters, never before... Today I say, NEVER AGAIN!" bringing deafening cheers and applause from the streets surrounding the capitol.

Labor organizers estimated the number in attendance at 65,000. However, Governor Walker's Department of Administration provided an estimate of 35,000 to the press, possibly in an effort to downplay popular support against him. (A shot showing the crowds from above can be seen on the Buffalo Beast web site by clicking here. Buffalo Beast is the site famous for the prank call to Governor Walker.) Within the past year, Walker has faced a popular recall drive that has gathered over a million signatures, and an ongoing John Doe investigation that has put some of his past aides in legal trouble and has forced Walker to set up a legal defense fund.

After the rally, an art show was held at the Goodman Community Center to celebrate protest art from the past year. The show, "Art in Protest", had been banned from the UW campus due to pressure from a Republican state representative.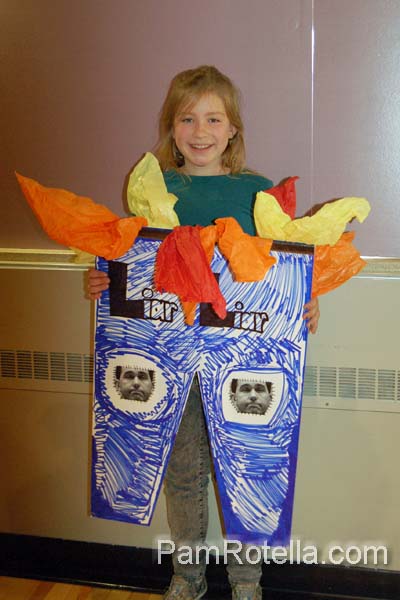 Because the show had no official space to house the artwork, protesters were asked to bring their art to the show personally and pick it up afterwards. Many displays were taped to the wall with blue masking tape, an artifact of the show's temporary nature. A video of past protests played continually on a screen at the front of the room.

"Crystal" (a pseudonym of her choosing), pictured, and her family designed and made the sign to the right. It has a "Liar, liar, pants on fire" theme, with colorful tissue giving its "flames" a 3-D effect.

To follow is a short interview with Mike Duffy, one of the banned art show's organizers:

PAM ROTELLA: I read on the Fighting Bob blog that you had to move here because UW wouldn't allow this display so close to the recall.

MIKE DUFFY: What happened was Steve Nass, Representative Steve Nass from Whitewater, threatened the [University of Wisconsin] School for Workers with cuts to their funding. They were the original sponsor of the show.

This was to be a show at the end of March. It was sponsored by the School for Workers. It was supposed to feature all of the art from the protests of a year ago -- visual arts, performing arts, film, video, song -- any kind of artistic reaction to the Governor's moves of a year ago were going to be celebrated at this weekend (inaudible) sponsored by the School for Workers. But Nass threatened the School for Workers, so they kind of mudgeoned on it. So we thought, well, we're going to put on the show anyway. So we talked to the Goodman Center and got this thing booked.

PAM ROTELLA: OK, and what were you hoping to do here? Basically, in general, what's the idea behind this?

MIKE DUFFY: Well, the original idea was just to exhibit all of the great artwork from the uprising, but since they were trying to squelch our voices, the real focus of this is to say that we're not going to be silenced. We won't -- we won't be told to shut up.

*****

Bruce Noble, pictured below with his wife, Amy, is known as "the box man." He has been on capitol square protesting for 389 days. An interview with him follows.



PAM ROTELLA: You were telling me that you've been involved with the recall for 389 days?

BRUCE NOBLE: That's exactly correct. It started on February the 15th of 2011, and [interrupted by an announcement].

PAM ROTELLA: What inspired you to work on this issue?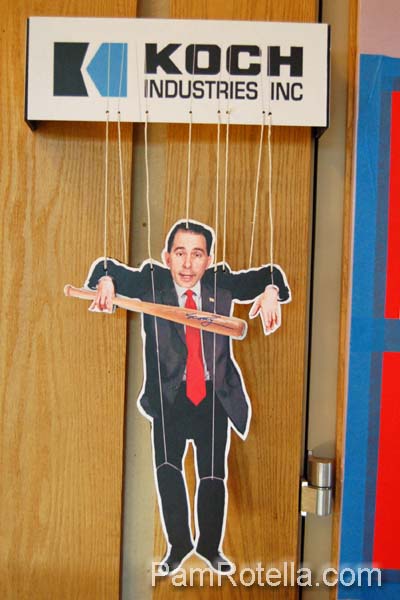 BRUCE NOBLE: Well, to tell you the truth, I wasn't inspired at first. I just showed up on the 15th, and I was excited by the other peoples' excitement. And one day led to another, and we finally found ourselves down there every day for like 50 days straight, and that turned into 100, and 200, and 300.

When this whole thing started, I was just coming off treatment for throat cancer. And so, there was still a good chance that the cancer would come back in this past year. Knock on wood, it hasn't.

And so this became kind of a calling. I wasn't sure I could do it from a physical point of view, and then after that I wasn't sure that I could just, you know, withstand the emotion of it. But I was really energized by it, and I really transformed myself from a person who was always a liberal, but was never one to go out on the streets. I would campaign every 4 years for presidential candidates, but I wouldn't go beyond that.

Now I'm a tried and true progressive activist, so I've transformed. And I'm particularly interested in the young people who have come down there. I'm a teacher, so I take -- I've been retired for 15 years -- but I'm particularly interested in offering education to them when I can. If they don't understand my sign, or if they have a question that I had a million times over the summer -- "What's going on here? What's happening in Wisconsin?" I was glad to try to answer that for them.

PAM ROTELLA: So, why do you think Scott Walker should be recalled? Do you have one reason, or several, or...

BRUCE NOBLE: Well, I think the biggest reason for me -- the one word that separates the two sides, I think -- is empathy. That one side does not have empathy for the least of us, and the other side does. And I think that I am more in this for getting [the] money out of politics, defeating the Supreme Court decision on Citizens United.

Actually, Walker is just a small fish in a big pond of change that is going on in this country, and I want to participate in stopping it. And then of course for him, there were all of the lies. And this could go on all day, you know -- it started with the lie that he told everybody that he was going to do what he did beforehand, which he didn't do. And then there's just been so much dishonesty that goes through all of the branches of government, including the Supreme Court.

And there have been so many things that have come along that have energized this campaign, that if the Republicans had held off, it would have stopped early. If they wouldn't have, you know, gone all the way stopping collective bargaining, if actually Justice Prosser had not been such a misogynist, and if we hadn't had the recalls during the summer -- and then if we didn't have the signing of the petitions to recall Walker. We just kept getting energized and energized. And along the way, there was conceal carry, there were actually women's health issues, it just kept coming up all the time. And so, it seemed I was against every one, and I had something to say about it, you know?

PAM ROTELLA: Do you mind me asking, what did you teach? And was it high school or college?

BRUCE NOBLE: I taught for 40 years in higher education, and I was a physiologist, and had... Although strangely enough, I had an undergraduate degree -- I had a couple of majors in [my] undergraduate degree. One was political science, and I left it behind. The day I graduated, political science was gone. But now, I find myself coming 360 degrees back to it.

But I spent my university career as really a scientist. And so, the scientist has found his heart, has found that we need both mind and heart in politics. And I think a lot of people have lost that, on both sides of the aisle. So, I'm hoping we will come to a saner time in politics. I'm not confident of that, but I'm still hopeful.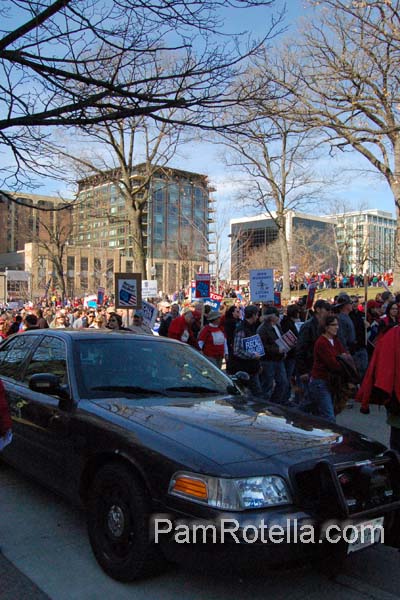 PAM ROTELLA: Well, when I post this interview on my blog, there will probably be some young people that read it as well. So, do you have any words of insight for the younger generation? Those who want to become politically active, or who are?

BRUCE NOBLE: Well, I would say come to Wisconsin, come to the capitol. Like today, there were 65,000 people at the capitol. And I stood there for four hours, completely amazed at the young people who were there -- people like Lori Compas who organized the campaign against majority leader Scott Fitzgerald. What a beautiful person she is -- young and so equipped to be a really good politician.

So to be there, to be around those people... I'm 77 years old, you know, my good days are behind me. So to see these young people -- guys like Mahlon Mitchell from the fire fighters and many others. There's a guy from Cops for Labor, his name is Brian Curtis I think it is [He may have meant Brian Austin], who is so articulate about what's been going on. If anybody could hook up on the internet with any of those people -- Lori Compas... [interruption in audio recording] ... a wonderful education.

PAM ROTELLA: As a follow-up to that, one thing I've noticed -- because I also covered the RNC convention in New York City in 2004, where New York City had a small army of policeman on the street -- [Today] I saw one cop eating a sandwich next to a plate glass storefront, and one unmarked car on the square, and others just blocking the streets around it. What do you think about Madison's police response, and since you've been out there so long, what do you think about the police response in general?

BRUCE NOBLE: Well, I think if you ask the press, particularly Fox News and some of other conservative media, you would think that there were union thugs. There was no sign of a union thug that I ever saw!

The police, particularly the Capitol Police, and Chief Tubbs -- I mean, he's a beautiful man. He played it just exactly right -- just enough to protect the people, but not enough to close off democracy in action. So, he is a beautiful man, and all of the Capitol Police, and also the Madison Police, and the Sheriff, Mahoney -- the Dane County Sheriff. They all just played this thing so right. And it's not like Oakland or New York. We've had no pepper spray, we've had no fights. They're, it's just been... I mean, Dr. King and Ghandi must be weeping, they're so happy with what's going on.

*****

Ken Halfmann, a professional photographer from the area, was selling a book of protest photography from the past year's rallies. Halfmann is married to a Madison teacher, and he recalled how in February 2011, teachers went down to the square to protest. That Wednesday, Thursday, Friday, and Monday, classes were canceled because teachers weren't in school. Halfmann has followed the protests since, and thought that they were "worthy of a book project."

Barbara Vedder, who helped to start the Wisconsin Uprising Archive, was also in attendance. She expressed hope that people will visit and contribute to the archive, which features photos and stories from protests of the past year.

Verse Wisconsin was also mentioned during the poetry reading at the end of the show, a site with a page of poems about the uprising.



Back to the top

&copy 2012 by originating sources and Pam Rotella.

Back to Pam's vegan vegetarian FUN page

Pam's vegan vegetarian cookbook, with vegan vegetarian recipes